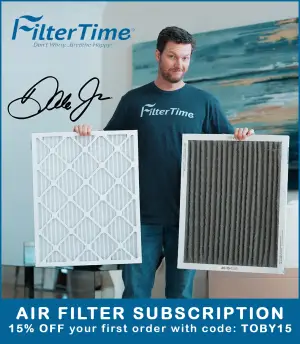 Ryan Truex, the younger brother of NASCAR Cup Series driver Martin Truex Jr, will return to Joe Gibbs Racing's NASCAR Xfinity Series program for a limited schedule in 2023, the organization announced on Thursday.
Truex, a native of Mayetta, New Jersey, will pilot the No. 19 Toyota GR Supra in six NASCAR Xfinity Series events in 2023, matching the number of events that the 30-year-old contested last season between JGR and Sam Hunt Racing in the Xfinity Series.
"We are looking forward to having Ryan back in our lineup in 2023 to run the No. 19," said Steve DeSouza, Executive Vice President of Xfinity Series/Development. "He has done well in the races he has run at JGR. His previous experience and driving ability will be assets as the No. 19 competes for an owner's championship next year."
Across NASCAR's top-three series, Truex has made 183 total starts throughout the 12-year career in which time he's collected 17 top-five and 49 top-10 results. Truex is also a two-time NASCAR K&N Pro Series East (now ARCA Menards Series East) champion.
"I am thrilled to be behind the wheel of the No. 19 for a few races next season," said Truex. "It was fun to run well with the team this past year. I appreciate the opportunity to race for JGR again next year. I think we can build from what we learned this year and get some solid runs in."
Jason Ratcliff, who worked with the No. 18 team in 2022, will move over to the No. 19 in 2023.
Sponsorship for Truex's effort in the Xfinity Series, along with a specific race schedule, will be announced in due time, along with the remainder of the roster for the No. 19 Toyota GR Supra.