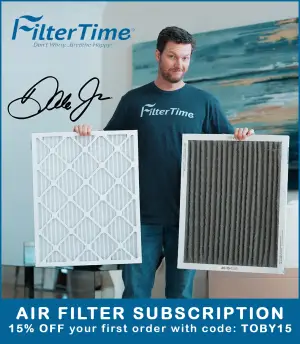 It may only be his second attempt at running the Snowball Derby, but Josh Berry has shown everyone in Pensacola, Florida that he will be one of the cars to beat at the end of Sunday's 300-lap contest at Five Flags Speedway.
Berry, piloting the No. 26 Chevrolet SS for Rackley WAR, posted the quickest time in Friday's qualifying session from the half-mile facility, laying down a 16.333-second lap to deny Derek Thorn his fourth consecutive pole position in the prestigious event.
Thorn will start on the outside of the front row for Sunday's 300-lap contest, with Conner Jones and Matt Craig set to roll from the second row, all putting down times in the 16.3-second bracket, similar to the polesitter.
Rounding out the top five, driving for Rette Jones Racing, is Noah Gragson, the 2022 NASCAR Xfinity Series Most Popular Driver. In his five previous Snowball Derby attempts, Gragson had never qualified better than seventh.
Carson Kvapil, a teammate to Josh Berry in some respects, being a Late Model driver for JR Motorsports in the CARS Late Model Tour, will roll off sixth in the GoFas Racing entry, with Giovanni Ruggiero, Jacob Gomes, Austin Nason, and Ryan Luza rounding out the top-10.
Erik Jones and William Byron, a pair of NASCAR Cup Series full-timers, will roll from 12th and 13th in Sunday's event, while NASCAR Truck Series Championship 4 driver Ty Majeski will start from 15th.
Corey Heim (19th), Daniel Dye (22nd), Sammy Smith (28th), and Jake Finch (30th) were also able to lock into Sunday's main event, by virtue of being inside the top-30 in single-car qualifying on Friday.
Derek Griffith (31st), Jesse Love (32nd), Derek Kraus (36th), Brad Keselowski (43rd), and Connor Mosack (47th) were the five drivers from the NASCAR world that will be forced to race in the Last Chance Qualifier if they're hoping to compete in the Snowball Derby.