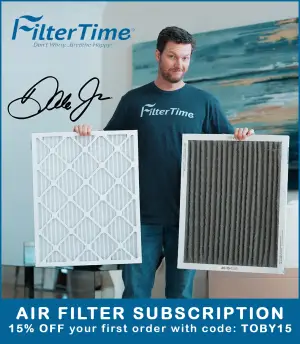 UPDATE #2: Sunday, November 27, 2022 at 4:00 PM ET —
In a post on the TOBY Race Products Facebook page at 12:32 AM ET on Sunday morning, Toby Nuttleman, the crew chief for Ty Majeski, owned up to his own personal mistake, which led to Majeski being disqualified from the Bill Bigley Sr. Memorial 128 at 4-17 Southern Speedway on Saturday night.
"I'm owning it. This was a dumb oversight on my part. I was putting the trailing arm together and was one bolt short," Nuttleman explained in the post.
"I used one, old, hollow bolt, as I only had three solid ones at the time. I knew I needed to replace it and forgot to do it. I effed up. I can't say sorry enough to Ty Majeski, this entire team that has busted their asses, and of course our sponsors."
---
UPDATE #1: Saturday, November 26, 2022 at 11:50 PM ET —
Ty Majeski was the winner of the seventh-annual Bill Bigley Sr. Memorial 128 at 4-17 Southern Speedway after he prevailed in a hard-fought battle with Michael Atwell on Saturday night, but when Majeski's No. 91 machine made it to post-race inspection, everything changed.
Majeski's car was found to have a hollowed-out suspension bolt, according to Sunshine State Racing, which is what led to his disqualification.
Racing America's Matt Weaver confirmed the reasoning for the disqualification as being for the gun-drilled bolt.
Update: Ty Majeski and crew chief Toby Nuttleman have been disqualified from the Bill Bigley Memorial 128 victory for a gun drilled bolt.

— Matt Weaver (@MattWeaverRA) November 27, 2022
According to the United Late Model Rules Alliance rule book, Majeski and his crew chief Toby Nuttleman were in violation of Section A.10, which pertains to Eligible Cars and Body guidelines. That section states, "Titanium, Inconel, or exotic metal are not allowed for use in any way on the race car. No hollowed-out bolts of any kind on suspension components."
The DQ means that Majeski will be credited with a last-place finish and second-place finisher Michael Atwell has been named the official winner of the 2022 Bill Bigley Sr. Memorial 128.
Atwell led a large portion of Saturday's race but was passed by Majeski with under 50 laps to go.
This marks the second-consecutive victory for Atwell in the Bigley Memorial race.
---
ORIGINAL STORY: Saturday, November 26, 2022 at 11:13 PM ET —
Ty Majeski did what he often does in Super Late Models in Saturday night's Bill Bigley Sr. Memorial 128 at 4-17 Southern Speedway, he won. But it was not an easy process for Majeski as he had to prevail in a hard-fought battle all race long with Michael Atwell.
After scoring the victory, and the $26,500 payday that came with it, Majeski gave huge credit to Atwell for keeping it clean with him for the win.
"He did [cut me slack] and he didn't," Majeski said of Atwell. "Just a ton of respect to Michael and his whole team. They're class acts. He could have gotten into me and moved me anytime there, but we had a good clean race early on. It was just a good hard short-track race."
For Majeski, who made it into the Championship 4 in the NASCAR Camping World Truck Series in 2022, Saturday's Bigley Memorial race was a nice change of pace from the wreck-fest that short-track racing as a whole has become in recent years.
"I feel like lately, on the levels of NASCAR even on the short track level, you see some questionable things going on. Really refreshing to see a good clean short track race like that," Majeski stated.
Early in this race, it looked like Atwell had the win all sewed up.
With under 50 laps to go, Atwell who turned the fastest qualifying lap earlier in the day to score the $3,500 qualifying bonus had led the majority of the race. However, Majeski was hot on his tail and the two engaged in a fevered battle for the lead for numerous laps.
Atwell, on the high side, seemed to always have a defense for Majeski, who was utilizing the inside line. But then, with 48 laps to go, Majeski changed course and moved to the outside. That was all she wrote.
"We never should have given him the outside there," Atwell anguished. "If we could roll the outside like we were doing, it didn't matter if he got to the inside unless he moved us, obviously. We could keep the momentum up and keep the speed up. But we gave him the outside, he got out there and we got behind him. Once we got behind him, it was basically the nail in the coffin."
Part of the reason Atwell's shot at the win had evaporated was that Majeski is good, but the other piece of the puzzle was a little bit of fluid that was leaking from Majeski's car that really hampered Atwell's ability to get around him for the rest of the race.
"There's oil pooled up on the front of the car from oil coming out, and obviously that's not his fault," Atwell explained. "He's driving the piss out of it and he did a hell of a job because we raced so many laps together and we didn't touch every lap. I really appreciate that from him, obviously. I thought a lot of him before, but racing with him like that, side-by-side, means a lot. He's got a lot of respect from me."
While Majeski scored yet another Super Late Model win, race conditions did lead to Atwell getting a few more chances at the two-time NASCAR Truck Series race winner in the closing laps.
A crash from Gabe Sommers with 17 laps to go, re-racked the field and gave Atwell a chance to regroup.
On the ensuing restart with 8 laps to go, Atwell applied the bumper to Majeski slightly going into Turn 1, but Majeski didn't relent. Nick Sweet would crash a lap later to re-rack the field one last time.
With five laps to go, Atwell did all he could, even making slight contact with the left rear of Majeski, but it was to no avail. Majeski would pull into the lead and would surge to the finish line for the victory.
Following Majeski and Atwell to the finish was Austin Nason in third, who prevailed in another great battle with Derek Kraus — another NASCAR Camping World Truck Series competitor. Kraus would hang on to finish fourth.
Michael Goddard, Anthony Sergi, Daniel Webster, Nick Neri, Nick Sweet, and George Gortham Jr. would round out the top 10 finishers in the 2022 Bill Bigley Sr. Memorial 128.
Here are the full race results:
| Pos | St. | No. | Driver | Laps | Diff | Best Lap |
| --- | --- | --- | --- | --- | --- | --- |
| 1 | | 55 | Michael Atwell | 128 | 0.246 | 14.786 |
| 2 | | 14 | Austin Nason | 128 | 0.865 | 14.720 |
| 3 | | 9 | Derek Kraus | 128 | 1.607 | 14.930 |
| 4 | | 37 | Michael Goddard | 128 | 1.644 | 14.978 |
| 5 | | 20 | Anthony Sergi | 128 | 2.400 | 15.012 |
| 6 | | 33 | Daniel Webster | 128 | 2.676 | 15.076 |
| 7 | | 17 | Nick Neri | 128 | 2.997 | 14.893 |
| 8 | | 1 | Nick Sweet | 127 | -1 Lap | 15.138 |
| 9 | | 10 | George Gorham Jr. | 127 | -1 Lap | 14.980 |
| 10 | | 4 | Scotty Tomasik | 127 | -1 Lap | 15.148 |
| 11 | | 58c | Rich Clouser | 127 | -1 Lap | 15.073 |
| 12 | | 69 | Michael Hinde | 127 | -1 Lap | 15.133 |
| 13 | | 15L | Sean LeMaster | 125 | -3 Laps | 15.136 |
| 14 | | 30 | Jesse Dutilly | 110 | -18 Laps | 15.023 |
| 15 | | 15 | Gabe Sommers | 110 | -18 Laps | 14.771 |
| 16 | | 27 | Cody Krucker | 109 | -19 Laps | 15.100 |
| 17 | | 0x | Ryan Walters | 92 | -36 Laps | 15.332 |
| 18 | | 59 | Dustin Dunn | 81 | -47 Laps | 15.079 |
| 19 | | 94 | Keith Roggen | 75 | -53 Laps | 15.096 |
| 20 | | 11 | David Weaver | 70 | -58 Laps | 15.130 |
| 21 | | 67 | Colin Allman | 37 | -91 Laps | 14.945 |
| 22 | | 99 | Cody Martell | 37 | -91 Laps | 15.110 |
| 23 | | 96 | John Nutley | 37 | -91 Laps | 15.250 |
| 24 | | 5 | Albert Francis | 36 | -92 Laps | 14.760 |
| 25 | | 28 | Dylan Bigley | 10 | -118 Laps | 15.004 |
| 26 | | 2 | Michael Bilderback | 6 | -122 Laps | 14.960 |
| 27 | | 74 | Johnny Kay | 0 | -128 Laps | 0.000 |
| 28 | | 91 | Ty Majeski | 128 | Disqualified | 14.771 |