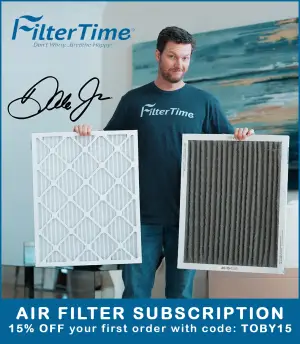 Jesse Little made a surprising announcement on Wednesday evening, as the driver with 104-career NASCAR National Series starts will only make one more start before calling it a racing career.
Little, 25, will pilot the No. 02 Young's Motorsports Chevrolet Silverado in Thursday night's NASCAR Camping World Truck Series event before moving on to a new career, which he says will keep him at the track.
Here is the complete statement that Little shared to social media on Wednesday:
"I want to thank each fan, friend, partner and family member that has helped me pursue my dream of being a race car driver. Thank you for all the shared smiles and successes. The relationships I've built with people in the industry will last forever. As well as all the memories made in and around the track. When I was a kid, I would have never imagined living this life, and I want to thank you all for helping me do so.
"I'm excited to begin a new career after this weekend's race at Bristol. And while I won't be climbing in race cars anymore, I'll still be at the track, and I look forward to seeing you all there."
David's Electric will sponsor Little's final ride in a race car (truck in this case).
Over the course of a NASCAR driving career that spanned from 2015, where he was a member of the NASCAR Next Class, to this season, Little has amassed 10 top-10 finishes in NASCAR National Series competition, despite competing with underdog operations.
The North Carolina native's best-career NASCAR Truck Series finish is sixth, which he has achieved twice (Iowa in 2018 and Daytona earlier this year). Additionally, Little has scored a pair of 10th-place finishes in NASCAR Xfinity Series competition (Pocono and Daytona in 2020).
Little, the son of another former NASCAR racer Chad Little, finished 35th in each of his two NASCAR Cup Series starts, which came in 2018.