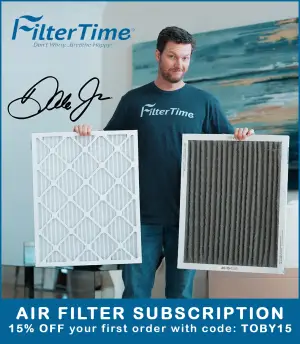 John Hunter Nemechek will lead the field to the green flag in Friday's NASCAR Camping World Truck Series Kansas Lottery 200 at Kansas Speedway, the elimination race for the first round of the series' post-season.
Friday at Kansas was a trouble-free day, as no drivers ran into any significant on-track issues throughout the two on-track sessions, contrary to the majority of race weekends this season.
The Kyle Busch Motorsports driver turned a time of 30.779 seconds to capture his sixth pole of the NASCAR Camping World Truck Series season, and the eighth of his career, narrowly beating out ThorSport Racing's Ty Majeski by 0.046 seconds.
Corey Heim notched another solid qualifying effort and will start from third place in Friday's 200-mile contest. Kansas is just the second track that the 20-year-old returns to for the second time.
Christian Eckes and Chandler Smith completed the top five in Friday's single-truck qualifying session. Both drivers have different goals entering Friday's event, as Eckes currently sits six points outside the cutline, while Smith has already reserved a spot into the second round.
Ben Rhodes, Ryan Preece, Matt Crafton, Ryan Preece, Matt Crafton, Zane Smith, and Tanner Gray all round out the top-10 starting positions.
There were 38 teams that entered this weekend's event, which leaves two drivers not competing Friday night. Tate Fogleman, driving the No. 26 for Rackley W.A.R., and Trey Hutchens driving his self-owned No. 14 Chevrolet Silverado.
Here are the qualifying results for the 2022 NASCAR Camping World Truck Series Kansas Lottery 200 from the Kansas Speedway:
Qualifying Results: 2022 NASCAR Camping World Truck Series Kansas Lottery 200
A straightforward practice before qualifying had the ThorSport Racing drivers atop the leaderboard with Crafton, Majeski, and Eckes all topping the field. Matt DiBenedetto snuck into the top-five with a fourth-place fastest lap and Derek Kraus wrapped up in fifth.
Here are the practice results from earlier in the day on Saturday:
Practice Results: 2022 NASCAR Camping World Truck Series Kansas Lottery 200