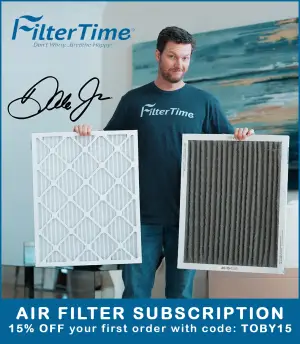 The elation of a Playoff-berth securing win in a wild NASCAR Xfinity Series race at Daytona International Speedway on Friday, is no more. Jeremy Clements is no longer locked into the NASCAR Xfinity Series Playoffs after NASCAR announced an L2-level penalty for his No. 51 Jeremy Clements Racing team on Tuesday.
In their weekly post-race penalty report, NASCAR detailed that Clements' No. 51 car was found to have infractions according to Sections 14.6.12K&U of the NASCAR Xfinity Series Rule Book, which pertains to the Intake Manifold.
Section 14.6.12K of the rulebook reads: The intake manifold must conform to NASCAR templates, gauges, scales, fixtures, and any and all other measuring devices.
And Section 14.6.12U reads: The floor of the intake manifold plenum must conform to the NASCAR Inspection Intake Manifold Plenum Plug Gauge. The NASCAR Inspection Intake Manifold Plenum Plug Gauge must fit into the intake manifold opening and contact the floor of the intake manifold plenum. The depth of the intake manifold plenum must be 4.000 (+0.000, -0.005) inches.
As a result of the infraction, the No. 51 team has been stripped of 75 owner points, and Jeremy Clements has been docked 75 driver points. The driver and team will also be hit with a 10 Playoff Point penalty as well and crew chief Mark Setzer has been fined $60,000.
According to NASCAR rules, any L2 penalties found after post-race inspection is completed will result in a penalty based off the minimum penalty options and the race finishing positon will not count towards eligibility for the Playoff, advancement in the Playoffs, eligibility for non-points events and tie breakers.
This is a major gut-punch for the No. 51 team, which had scored a surprise win to save what had been a frustrating season for the team.
Due to the infraction being discovered after post-race inspection, Clements will keep the victory in the record book, but all of the Playoff perks that went with it have been forfeited.
Clements and the No. 51 team are still eligible to return to the Playoffs if they are in the top-20 of the championship standings and score a win before the Playoffs begin.
No other penalties were announced in the weekly penalty report.