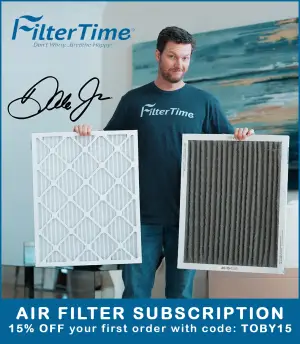 Aric Almirola will put off his retirement from full-time competition in the NASCAR Cup Series, announcing on Friday that he's signed a multi-year contract extension with Stewart-Haas Racing and long-time partner Smithfield Foods.
Last week, Motorsport.com reported that Almirola was destined to stay with Stewart-Haas Racing in 2023, but did not mention the length of his new contract.
"I've learned a lot this year and perhaps the biggest learning was to never say never," Almirola said. "I came into this year ready to soak everything up, and I have. I already knew I had the coolest job in the world, but being with my family and being there for Janice and Alex and Abby was really important. My desire to compete and win never wavered, but I didn't want it to come at the expense of my family. We found a way to accommodate both and I've never been happier."
As the series heads into the regular-season finale at Daytona International Speedway, Almirola has recorded two top-five and seven top-10 results, which places him 18th in NASCAR Cup Series points with an average finish of 17.3.
"Smithfield is a big part of that. They've been a part of my life for 11 years and, really, my entire NASCAR Cup Series career," Almirola continued." They're family to me. And, of course, it's always nice to be wanted. Smithfield wanted me to continue representing them. Stewart-Haas Racing wanted me to continue driving their racecars. Everything just aligned and it's something we all embraced. The original decision to step away from full-time racing at the end of the season was a family one, and so is this decision. Janice, Alex, and Abby are just as excited as I am to continue racing the No. 10 Smithfield Ford Mustang."
The Almirola-Smithfield pairing is one of the longest driver-sponsor relationships in NASCAR's top-three divisions, with the sponsorship dating back to 2012 when Almirola competed for Richard Petty Motorsports.
"Aric has been a part of the Smithfield family for more than a decade and we're very happy to have him back in the No. 10 Smithfield Ford Mustang," said Shane Smith, president and CEO, of Smithfield Foods. "Just as Aric discovered new ways to enjoy this sport, Smithfield did too. I was at this year's Daytona 500 with him and it was electric. NASCAR is exactly where we need to be. It's where our customers are, and no one reaches them better than Aric Almirola. He's an incredibly talented racer and devoted family man who embodies Smithfield's values. From day one, Aric has embraced our commitment to do good for our customers, employees, and communities. This is a reinvestment in Aric, in Stewart-Haas Racing, and in NASCAR."
Since moving to Stewart-Haas Racing in 2018, Almirola has recorded a pair of victories, as well as 17 top-five and 59 top-10s, as well as a career-high points position of fifth-place in his debut season with the team.
"All of us at SHR are very happy to have Aric back in our Smithfield Ford Mustang," Stewart said. "I've always admired Aric because he's always working to better himself, to find a better way. This year is proof of that.
"We're in a tough sport, in terms of the competition and in terms of the commitment it takes to compete at this level. Even with all that, Aric has found a way to compete and enjoy life. That sounds simple, but achieving it is hard, yet Aric makes it look simple. It's one of his many attributes, and it's one of the many reasons why he's such a good fit for Smithfield and for us. I'm proud of him and proud to extend our partnership with Smithfield."