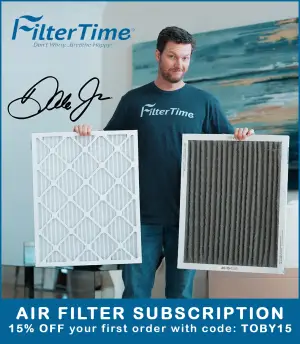 Brandon Jones, in Brandon Jones fashion, did what he needed to do to win Friday's ARCA Menards Series General Tire Delivers 100 at Watkins Glen International. What did Jones do? He ran his race and led only the final lap.
Sammy Smith dominated the race from the drop of the green flag, but it was his biggest competition in Taylor Gray that slammed into him on the final restart after being followed tightly into the corner by Jones, and handed the lead over to the No. 81 Toyota.
The race actually started out very uneventful, with the first 11 laps going green with no incidents.
That was until Rita Thomason spun out in the bus stop and stalled her No. 06 race car, leading to a caution. But it was what happened just before the caution flew that caught everyone's eye.
Replay#GeneralTireDelivers100 | @ARCA_Racing pic.twitter.com/pCxKZOspNl

— Marty Czekala (@MartyCzekala) August 19, 2022
In Thomason's attempt to get back onto the racing surface, she pulled directly into the bus stop area right as Dale Quarterley is driving by. The two nearly had a violent t-bone crash.
Once that cleared, it was Smith, who retained the lead but not without a fight. Taylor Gray was able to keep solid ground on the leader until the race break at lap 22.
Connor Mosack and Brandon Jones were in the midst of a battle for third at this point, which almost went down in flames as they ran into the No. 06 of Thomason in the esses.
That was close 🫣 pic.twitter.com/KcMzQVO5ys

— ARCA Menards Series (@ARCA_Racing) August 19, 2022
All bets were off after the final race break of the day, as drivers would begin to beat and bang for position with just 16 laps to go.
Smith, Gray, and Jones continued to sit an even distance from each other with nine laps left as a huge crash took place. Chris Werth and Amber Balcaen came together and the Werth's No. 71 would get pinned underneath Balcaen's No. 30 car.
A big hit for @amberbalcaen10 and Christopher Werth to bring out the caution flag here at @WGI 😳 pic.twitter.com/v5tBlKF6bY

— ARCA Menards Series (@ARCA_Racing) August 19, 2022
Balcaen was visibly upset with Werth after the incident.
On the restart with four laps to go, Mosack and Jones made contact again, and this time it sent the 23 out of contention.
Things continued to get heated as Gray put the door to Smith in attempt to take the lead just as the caution came out.
But as we saw that wasn't the end of things, as the two would come together again and as a result neither of them would win the race.
Video: Taylor Gray Nudged by Brandon Jones, Cleans Sammy Smith Out of Lead on Last lap at Watkins Glen
Brandon Jones scooted on by to collect his third ARCA Menards Series win of the 2022 season.
Nick Sanchez got through to finish second, a much needed result as his points lead has now extended to 11 points over Daniel Dye and 16 over Rajah Caruth.
Caruth, who came into the race second in the standings, had a flat right rear tire, which was followed by a pit road speeding penalty, which led to an 11th-place finish for the Rev Racing driver.
Jesse Love quietly finished in the third position, a good clean run for himself and the Venturini Motorsports team.
Dye and Smith rounded out the top five, who both surely have different feelings on how their day went. Dye's finishing position was the highest spot he was in all day, compared to Smith who led 39 of 41 laps and didn't get the victory.
Parker Chase brought it home sixth, and Austin Wayne Self – running double duty this weekend – finished seventh.
Gray, Quarterley, and Connor Jones rounded out the top ten finishers.
It was an uneventful race, which turned quite eventful. Now it feel as though the high tempers will carry over to the ARCA Menards Series' next event in just TWO DAYS on the dirt in Illinois.
Here are the final race results from Friday's ARCA Menards Series General Tire Delivers 100 at Watkins Glen International:
| Fin | No. | Driver | Make | Laps | Diff | Best Lap | Status |
| --- | --- | --- | --- | --- | --- | --- | --- |
| 1 | 81 | Brandon Jones | Toyota | 41 | --- | 75.137 | Running |
| 2 | 2 | Nick Sanchez | Chevrolet | 41 | 0.600 | 75.323 | Running |
| 3 | 20 | Jesse Love | Toyota | 41 | 0.724 | 75.739 | Running |
| 4 | 43 | Daniel Dye | Chevrolet | 41 | 1.316 | 76.428 | Running |
| 5 | 18 | Sammy Smith | Toyota | 41 | 2.157 | 74.935 | Running |
| 6 | 15 | Parker Chase | Toyota | 41 | 3.122 | 76.552 | Running |
| 7 | 32 | Austin Wayne Self | Chevrolet | 41 | 3.706 | 76.868 | Running |
| 8 | 17 | Taylor Gray | Ford | 41 | 4.322 | 75.031 | Running |
| 9 | 4 | Dale Quarterley | Chevrolet | 41 | 4.489 | 76.947 | Running |
| 10 | 55 | Conner Jones | Toyota | 41 | 4.620 | 76.734 | Running |
| 11 | 6 | Rajah Caruth | Chevrolet | 41 | 4.807 | 76.749 | Running |
| 12 | 11 | Stanton Barrett | Toyota | 41 | 5.155 | 78.127 | Running |
| 13 | 35 | Greg Van Alst | Chevrolet | 41 | 6.259 | 79.222 | Running |
| 14 | 25 | Toni Breidinger | Toyota | 41 | 8.429 | 80.349 | Running |
| 15 | 03 | Casey Carden | Ford | 41 | 21.095 | 85.764 | Running |
| 16 | 23 | Connor Mosack | Chevrolet | 38 | 3 laps | 75.265 | Running |
| 17 | 12 | Ed Pompa | Toyota | 37 | 4 laps | 80.923 | Running |
| 18 | 71 | Christopher Werth | Ford | 32 | 9 laps | 79.610 | Out |
| 19 | 30 | Amber Balcean | Ford | 32 | 9 laps | 80.482 | Out |
| 20 | 06 | Rita Thomason | Chevrolet | 31 | 10 laps | 94.302 | Out |
| 21 | 7 | Dr Ed Bull | Ford | 27 | 14 laps | 86.388 | Out |
| 22 | 73 | Andy Jankowiak | Chevrolet | 3 | 38 laps | 80.327 | Out |
| 23 | 01 | Zachary Tinkle | Ford | 2 | 39 laps | 85.684 | Out |
| 24 | 48 | Brad Smith | Chevrolet | 2 | 39 laps | 97.698 | Out |
| 25 | 10 | Tim Monroe | Chevrolet | 1 | 40 laps | 109.354 | Out |