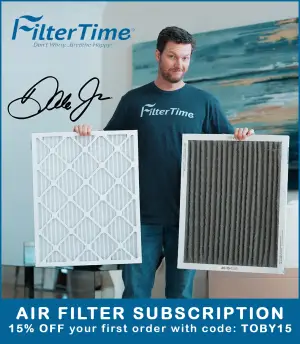 Oh. My. Goodness.
Martin Truex Jr., who was the first driver on the outside of the NASCAR Cup Series Playoffs cutline heading into Sunday's race at Richmond Raceway, was minding his own business on lap 156.
It was at this moment that Ricky Stenhouse Jr. lost control, while attempting to get to pit road for a green flag pit stop. As Stenhouse wiggled, he slid into the side of Truex's car, which was passing to the outside.
Here is the incident as it happened:
CONTACT!

Ricky Stenhouse Jr. gets into Martin Truex Jr. trying to get onto pit road. #NASCAR

📺 : @USA_Network pic.twitter.com/d0HSs4IKoZ

— NASCAR on NBC (@NASCARonNBC) August 14, 2022
While it was a less than ideal moment for Truex, he was fortunate that the contact did not cut a tire or break a toe link on his No. 19 Joe Gibbs Racing Toyota Camry.
For Stenhouse, he missed pit road, came back around and was busted for speeding on pit road. A decent day for Stenhouse spiraled out of control very quickly.