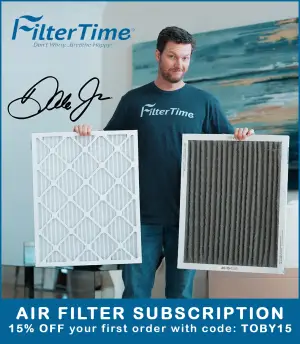 UPDATE: Thursday, August 11 at 12:45pm / ET
According to FOX Sports' Bob Pockrass, Mike Rockenfeller will also be participating in his 'Select Driver Orientation Test' on Thursday at VIR, getting behind the wheel after Kimi Räikkönen is done.
Rockenfeller was recently announced to be driving the No. 77 Chevrolet Camaro for Spire Motorsports at Watkins Glen and Charlotte's ROVAL.
Both drivers will be piloting an Action Express NextGen prototype in Thursday's test session.
---
Kimi Räikkönen – the 2007 Formula One World Drivers Champion – will get behind the wheel of a NASCAR Cup Series NextGen car for the first time on Thursday, as he participates in a 'select driver orientation test' at Virginia International Raceway.
Räikkönen, who will make his NASCAR Cup Series debut at Watkins Glen as part of Trackhouse Racing's Project 91 program, is the first driver to participate in a 'select driver orientation test'.
An exception to NASCAR's Vehicle Testing Policy, a 'select driver orientation test' allows a driver entering the NASCAR Cup Series from another discipline to acclimate themselves with the NextGen car, prior to their debut.
Kimi's climbing in for some test laps around @VIRNow ‼️ pic.twitter.com/LSFwMBAG6n

— PROJECT91 (@THProject91) August 11, 2022
There are a number of stipulations surrounding this 'select driver orientation test', including:
Only three sets of tires can be used in the test session.
Engine specifications must be appropriate for the testing track type.
The only vehicle configuration changes permitted are related to ride and handling, based on driver feedback.
Data will be limited to steering, brake pressure, throttle position, gear position, and NASCAR will provide the ECU logging configuration. No other sensors or data systems may be installed on the vehicle.
The distribution of test data will be TBD.
The maximum test duration is one day, for a maximum of 10 hours, with time beginning with the first moment the vehicle is on track. Additional time may be granted in the event of inclement weather or track-related issues.
The testing venue must not be at a location in which the driver is entered in an event.
The test must be conducted at a NASCAR or IMSA-approved race track with NASCAR-approved track services, and follow all NASCAR safety protocols.
As the day continues and Trackhouse Racing and PROJECT 91 provide more photos, videos, etc. on the testing session, they will be added to this story.
---
Heading out for the first run of the day 👏 pic.twitter.com/spDjYIYH9O

— PROJECT91 (@THProject91) August 11, 2022