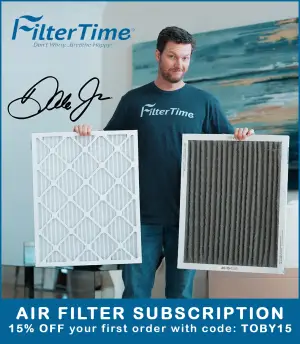 KNOXVILLE, Iowa — As Brandon Wimmer's No. 6B sprint car led the third heat race Wednesday night at the Knoxville Nationals, Wimmer knew something was wrong.
The purple and black sprint car billowed smoke while Justin Peck's No. 13 machine was all over Wimmer trying to get the lead at Knoxville Raceway.
The Fairmount, Indiana native held off the Monrovia, Indiana native to win the third heat, but the team had to diagnose what made that engine sick.
. @dirtvision REPLAY: @BrandonWimmer hangs on with an ailing car and holds off @justin_peck5 for the Win in Heat #3!!! @HunterPercent & @LachlanMcHugh3 also transfer to the Feature! Head to https://t.co/KL918QPjZy to sign up and catch all he action from @knoxvilleraces!!! pic.twitter.com/XJza49cEd3

— World of Outlaws (@WorldofOutlaws) August 11, 2022
The team figured out that a valve cover gasket was failing and replaced it. However, Wimmer's car began smoking again in the A-Main. The car crawled to a halt on the first lap of the race and Wimmer finished 24th.
"It lost a lot of oil and we couldn't tell if it had hurt anything until we actually went out for the A (Main) and tried to run it," Wimmer said. "Now the motor's actually completely hurt now, so unless we can find a motor for Friday, we're probably done for the week."
Getting a motor in the middle of one of the biggest sprint car races in the U.S. is about as difficult as it sounds. With over 100 cars in Iowa at this race, one might think that spare parts are in abundance. However, teams are holding onto their engines because parts have been hard to come by. Wimmer had another engine fail on him earlier this year and it took a month to get replacement parts.
"The logistics of getting parts is bad right now for our sport," Wimmer said. "And I'm not sure if we'll be out the rest of the year or not. We're a little team and two engines in one year hurts, so we'll have to see what happens."
After winning his heat race, @BrandonWimmer had a gasket fail. That led to more issues and his only engine for the weekend cannot be fixed.

Wimmer is currently looking for a motor to finish out the weekend in the No. 6B.#NOSvilleNationals #WoOSprint pic.twitter.com/sRofrSoaW8

— Christopher DeHarde (@CDeHarde) August 11, 2022
Wimmer set the 38th fastest time out of 51 qualifiers on Wednesday night. However, he started from the pole in the third heat based off of the eight-car invert format that the Knoxville Nationals uses. He is currently 34th on the Knoxville Nationals points list that determines where drivers will be seeded for Friday and Saturday's races.