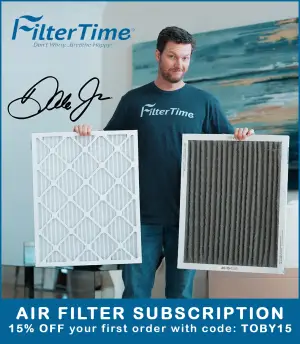 The 2022 NASCAR Camping World Truck Series regular-season was one that saw lots of parody throughout the field, which included a couple of surprises from part-time competitors.
Ford has returned to the top of the grid to contend for victories this season in the NCWTS, and if all goes to plan, a championship with Zane Smith and Front Row Motorsports, who enter the series' post-season as the No. 1 seed.
Both Corey Heim and Parker Kligerman have been able to parlay their partial schedules into victories this season, with Kligerman capturing a breakthrough win for Henderson Motorsports at Mid-Ohio, and Heim capturing a pair of wins at Atlanta and WWT Raceway.
Having not competed in every NASCAR Truck Series regular-season event in 2022, Heim and Kligerman will not be eligible to chase a championship this season, paving the way for a points battle that came down to the regular-season finale at Pocono between Grant Enfinger, Matt Crafton, and Derek Kraus.
---
Zane Smith / Front Row Motorsports / Ford (+35)
After a nearly-perfect 16-race stretch, Zane Smith and Front Row Motorsports were able to handily capture the 2022 NASCAR Camping World Truck Series regular-season title last weekend at Pocono.
Entering his third season of competition, his first with Ford and Front Row Motorsports, Smith has given team owner Bob Jenkins one of his most successful seasons in NASCAR's top-three divisions.
As the series begins its seven-race post-season, the 23-year-old has already secured nine top-five results through 16 races, only one less than his entire two-season tenure at GMS Racing. Additionally, Smith sits one top-10 and 29 laps led away from matching respective single-season highs.
However, the NASCAR Truck Series Playoffs hold unfinished business for Smith, who has finished runner-up in series points for each of the last two years, losing out to Sheldon Creed and Ben Rhodes, in 2020 and 2021, respectively.
"To hopefully capture some race wins from here to Phoenix," Smith said about his Playoff goals. "You just need to be consistent and not have really bad days. I feel the bad days set you back in the Playoffs because it's all the best guys that are there. So you're focused on beating them which all of them run up front. You can get yourself in a hole before you know it. So hopefully not that, but we'll stay at it and hopefully have a good couple rounds."
Smith begins the 'Round of 10' with a 35-point buffer over the cutline, a direct result of his three victories and the regular-season championship.
---
Chandler Smith / Kyle Busch Motorsports / Toyota (+20)
Chandler Smith has once again found the form that he displayed in his part-time effort in 2019, securing a pair of victories (Las Vegas and Pocono) and matching his teammate, John Hunter Nemechek, shot for shot throughout the year.
As a result of Smith's uptick in performance, Kyle Busch Motorsports as a whole has improved, entering the playoffs with two drivers capable of finding themselves hoisting the championship trophy at year's end.
The Talking Rock, Georgia-native has put himself in a much better position to advance through the 'Round of 10' and 'Round of 8' with two victories entering the post-season, rather than his two victories during the post-season in 2021.
"When you get a win going into any type of weekend it just boosts the whole team morale," Smith said. "Just winning solves everything, right? We definitely have momentum on our side, we got a good group of races coming up for our team, individually. I think we are in a good place."
The Kyle Busch Motorsports driver enters the NASCAR Truck Series Playoffs as the No. 2 seed, with a 20-point advantage over the cutline, as the series returns to IRP for the first time in over a decade.
---
Ben Rhodes / Thorsport Racing / Toyota (+15)
Defending NCWTS champion, Ben Rhodes, notched a spot into the Playoffs this season with a victory at Bristol Motor Speedway (on the dirt), but the second half of the regular-season campaign has been less than ideal.
The 25-year-old started the season off strong, collecting six top-10 results in the first eight events of the season. However, in the eight races since, both speed and luck have been non-existent for Rhodes, only collecting three top-10 finishes, with no top-fives.
Last year, Rhodes was the model of consistency as he drove to his first championship, picking up five top-10 finishes in the seven-race post-season, a performance he'll have to replicate if he hopes to become the series' second-ever back-to-back champion.
"The biggest thing is not overdoing it," Rhodes said about the Playoffs. "All these other guys are really hungry – and I am too – but their hunger can cause them to make mistakes, right? We need to keep calm and composed, no matter what happens, and just know that we've been here before, rely on the experience, and savor the moment again.
"Because win or lose, it's hard to make the Playoffs as is and advancing to the next round and the next round after that, it's very difficult. Just getting to the ['Championship 4'] is like winning the championship in a lot of ways."
---
John Hunter Nemechek / Kyle Busch Motorsports / Toyota (+14)
Entering the final seven races of the 2022 NCWTS season, John Hunter Nemechek and the No. 4 Kyle Busch Motorsports Toyota Tundra are likely the biggest question marks or 'wildcards', if you will.
After a dominating performance was thwarted in the season-finale at Phoenix last season, the 25-year-old has been open about the fact that he didn't want to peak too early, as he attempts to secure his first title in the NASCAR Camping World Truck Series.
Matching his Kyle Busch Motorsports teammate Chandler Smith, Nemechek has picked up seven top-five and 11 top-10 results through the first 16 events of the season, while also notching a single victory at Darlington.
Nemechek may need some additional speed to compete with title favorite Zane Smith, but his awareness and wealth of experience may just be what sets him apart from the other nine NASCAR Truck Series Playoff contenders.
"Our look going into the playoffs is definitely different than last year," said Nemechek. "I feel like we had more of a dominant season last year and this year we are flying under the radar a little bit. So, different mindset, a different perspective, but excited to get the Playoffs started and go and capitalize."
Entering Indianapolis Raceway Park, Nemechek only sits 14 points above the cutline, which means it will be crucial to have a clean three races if he hopes to advance further into the series' post-season.
---
Stewart Friesen / Halmar Friesen Racing / Toyota (+11)
After making the switch to Toyota in 2020, Halmar Friesen Racing has finally returned to form in the NASCAR Truck Series, after Stewart Friesen notched his third career victory earlier this season at Texas.
The 39-year-old makes his fourth appearance in the NASCAR Truck Series Playoffs and has had a pretty quiet, but a consistent season, with only one finish outside the top-16. With six top-five and nine top-10 results, Friesen currently holds a career-best average finish of eighth heading into the final seven events of the year.
Only once in his four NCWTS Playoff appearances has Friesen reached the Championship 4, which resulted in career-high fourth-place points finish in 2019. However, if Friesen is to replicate that success, he'll need to keep the consistency up, avoiding any poor finishes that could cost him a myriad of points.
"It's very position, we have a great group of guys at [Halmar Friesen Racing] this year," Friesen said. "Everything we've built up in the last three years has been executed to get up to this point. We've been in the top five almost every week the past couple of months. It's just all about execution, we have great trucks, there is really nothing we lack as far as equipment-wise. It's just about putting all those pieces into play and coming out with some good runs."
As the No. 5 seed in the 2022 NCWTS Playoffs, Friesen only enters IRP with an 11-point advantage over the cutline, meaning the season-long consistency will have to continue over the next three races.
---
Christian Eckes / ThorSport Racing / Toyota (+5)
Christian Eckes is a perfect example of how some young drivers need more time in order to develop and fully take advantage of a top-tier opportunity.
After departing Kyle Busch Motorsports at the end of 2020, Christian Eckes was tabbed to split the No. 98 with Grant Enfinger in 2021, netting a victory at Las Vegas Motor Speedway. From there, the Sandusky, Ohio-based team tapped him for a full schedule in 2022 and it has paid off big.
Despite Ben Rhodes being ThorSport's only full-time driver to collect a victory in 2022, Eckes has stood out in the middle portion of the regular season, after near wins at Texas, Charlotte, and Gateway.
For the second time in his career, Eckes joins the ranks of the NASCAR Truck Series Playoffs, and despite being winless, has had one of the best seasons of any driver in the series.
With seven top-five finishes, Eckes is part of a four-way tie for second place when it comes to top-fives on the season, joining his teammate Ty Majeski, and KBM teammates Nemechek and Smith.
"Just not making it as big of a deal as you can is probably the best alternative honestly, as weird as that is," Eckes said. "You know if you try to freak yourself out and make it more than it is, at the end of the day it is just another race, just three races in-a-row. I just need to focus on doing my job and not necessarily the big trophy at the end of the year, just yet."
Without the added benefit of Playoff Points, Christian Eckes sits only a handful of points above the cutline, which will demand a level of consistency equal to that of his mid-season run.
---
Ty Majeski / ThorSport Racing / Toyota (+4)
A teammate to Christian Eckes at ThorSport Racing, Ty Majeski's story takes on a similar narrative, after the 27-year-old was finally afforded the opportunity to return to NASCAR's National Series full-time in 2022.
Majeski, like his teammates Eckes and Crafton, sit with a goose egg in the win column this season, despite coming close on a number of occasions. Despite only leading 77 laps throughout the regular-season, Majeski has been consistent, notching seven top-five and 10 top-10 results.
The missing piece for Majeski's potential championship bid? A consistent presence at the front of the field, something that despite an impressive effort this season, has alluded the Seymour, Wisconsin-native.
"I feel really good with the first three, the first round," said Majeski. "I feel really good about IRP, Richmond and Kansas. Then you get into some wild cards, Bristol a short track, Talladega a superspeedway, and Homestead. Three tracks I feel really good about, if we are fortunate to make it to the second round it's going to be much tougher. Like I said, our team has been really good on all different types of racetracks, I think that's been a strong suit for us heading into the second half of the season so I'm excited for it."
Sitting only four points above the cutline, Majeski will have to rely on his short-track experience to advance him through the Playoffs, but a single mistake could potentially jeopardize his hopes of advancing further.
---
Carson Hocevar / Niece Motorsports / Chevrolet (+3)
Without a doubt, the most interesting piece of the NASCAR Truck Series Playoff picture this season is Carson Hocevar, who at 19 years old, is the youngest of the 10 drivers competing for the series championship.
Hocevar's season has been extremely trying to this point, beginning with a heart-breaking string of near-misses, as the Portage, Michigan-native chases his first victory in the NASCAR Truck Series with Niece Motorsports.
Just a couple of weeks later, Hocevar broke his right tibia in a final-lap accident at WWT Raceway, an injury that many thought would end his chances at a championship this season. However, the second-year driver persevered, returning to the series at Sonoma to practice and start the race in his truck.
In the four races since Sonoma, Hocevar has been a man on a mission, recording one finish worse than fifth, a 35th-place result at Knoxville, where he led 65 of the 66 laps that he completed before an engine issue.
"There's emphasis on every race," said Hocevar. "You got three shots and if you are behind half a race, you only get two races to catch back up and pass people. You got to make every point count or minimize that one bad day, I think two mediocre days are more important than one bad day."
Although he enters the Playoffs winless, Hocevar has to be the biggest 'darkhorse', having come painstakingly close to his first career victory on so many occasions this season, and riding a streak of top-five results and positive momentum.
---
Grant Enfinger / GMS Racing / Chevrolet (-3)
When it was announced that Grant Enfinger would be returning to GMS Racing in 2022, many envisioned a championship-caliber performance would be what followed. However, a tough season has made it seem like it isn't possible.
Enfinger enters the Playoffs as one of two entries from Chevrolet and one of two trucks without a teammate in the post-season – the other in both categories being Carson Hocevar.
The Fairhope, Alamba-native's return to GMS Racing has had its bright spots, but for the most part, has been below-average for the championship-winning organization, with only three top-fives and seven top-10s.
Prior to Mid-Ohio, GMS Racing elected to make a crew chief change, replacing Charles Denike with Jeff Hensley, who has worked with Enfinger in the past. While the first two races of the driver-crew chief combo being reunited have been lackluster, there is hope that things may turn around for the post-season.
"Our regular season has not gone to our expectations," Enfinger said. "Feel like we've been off a little bit on the mile and a half stuff, but we are working really to get that better and we've narrowed that a lot since the beginning of the year. So I feel like any of these we can show up and win at, but I'm a short track guy, I like the short tracks. I think anytime we unload there we have an opportunity to win."
Enfinger enters the 2022 NCWTS Playoffs below the cutline, already looking at a three-point deficit as the series heads to Indianapolis Raceway Park. If GMS Racing's No. 23 team is going to find themselves deep in the playoffs, the rally will need to begin with Friday's T-Sport 200.
---
Matt Crafton / ThorSport Racing / Toyota (-4)
Matt Crafton has made a name for himself in the NASCAR Camping World Truck Series by being consistent and stealthy, which is exactly the strategy he used to lock himself into this year's Playoffs.
The three-time champion was able to out-point McAnally Hilgemann Racing's Derek Kraus to continue his streak of being in every single iteration of the NASCAR Truck Series Playoffs.
"I mean it definitely is an advantage for me," Crafton said. "Because I know when I was trying to race for my first championship, the pressure that is on you to be able to win the thing so I know that they (young drivers) are going to have a lot riding on them these next few races."
Crafton's best finish – and only top-five result – throughout the 16-race regular season was a fifth-place showing at Darlington Raceway, which puts him low on the list of favorites for the championship this season.
Entering the 'Round of 10' already four points below the cutline, Crafton will need to channel some of that consistency, if he wants to advance through the rounds and have a chance at a record-tying fourth championship.
The NASCAR Camping World Truck Series Round of 10 begins this weekend at the Lucas Oil Indianapolis Raceway Park on Friday, July 29, broadcasted on FS1 at 9:00 p.m. ET.