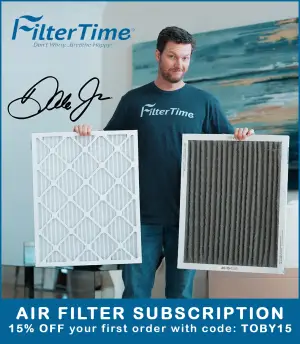 NEWTON, Iowa — With five laps to go in the only Indy Lights race at Iowa Speedway for the 2022 season, Matthew Brabham was all over championship leader Linus Lundqvist for the race lead.
As the pair approached the back straight, Brabham was outside of Lundqvist, the Swede trying to keep his No. 26 machine in front. Hearing from his spotter that he was clear on the outside, Lundqvist moved up in front of Brabham, but the American was still outside of Lundqvist.
The pair had contact, damaging the front wing of the No. 83 Andretti Autosport machine. Brabham drove the car around to the finish with the front wing's dragging able to be heard by all watching the race broadcast from home.
Pushing to the max.@L_Lundqvist76 was penalized 3 grid spots after this incident with @MattyBrabs.

Listen to the two drivers discuss the battle at @iowaspeedway. #RoadToIndy // @TeamCooperTire // @INDYCARatIowa pic.twitter.com/weikeMH7J1

— Indy Lights (@IndyLights) July 23, 2022
As Lundqvist picked up the win on track, Hunter McElrea and Christian Rasmussen picked up second and third place from Brabham, placing the 2013 Indy Pro 2000 champion provisionally in fourth place.
Brabham was upset with Lundqvist and the two had words on pit road after the race in full view of the Peacock broadcast cameras before Brabham spoke with the INDYCAR Radio Network.
"He came down low and gave me the lane up high," Brabham said of Lundqvist. "So I was like, well, you're gonna give me a full lane up high, I'll take it. So I took the lane up high, we got straight on the straight and then it's almost like he decided, 'Oh, I made a mistake. Now I need a block.' And you know, he said obviously his spotter cleared him, but we weren't clear. He just drove me in the wall. So I don't know. I mean, I think obviously that was my race to win, but sometimes it's how it goes."
Lundqvist maintained that his spotter said he was clear as he and Brabham headed to the backstretch.
"I think we were having a really good fight," Lundqvist told TobyChristie.com. "So I was looking forward to it. I got a little bit loose in Turn 1 and 2, and obviously I kind of assumed that he got a run as well. And then obviously I heard clear from my spotter to go wide, which I did. And unfortunately I think we were just, you know, an inch or two too late on it. It's unfortunate, what happened."
Race control would have their say after the race, penalizing Lundqvist three positions and handing McElrea the win, the 250th for Andretti Autosport as an organization. The series points leader lost some of the championship lead he had, and was frustrated with the penalty.
Lundqvist visited race control in the paddock for several minutes following the race trying to plead his case and understand the ruling.
"They were just explaining from a regulations point of view how and why the penalty was (applied)," Lundqvist said. "Obviously it wasn't super clear cut and obviously there's some difference in opinions, but it is what it is, you know. Sorry to Brabham because I don't want it to end like that. I thought we were having a good fight, but yeah, it is what it is."
Brabham stayed on track to try and salvage his position, but not having a working front wing meant his pace would be significantly slower as the final few laps counted down.
"I mean, I was driving a Formal Ford out there," Brabham said on pit road after the race. "I had no front grip, so I nearly crashed Christian (Rasmussen) just trying to hang onto it. So I'm glad I didn't take him out."
Lundqvist still leads the Indy Lights points 383 to 306 over McElrea. Sting Ray Robb is third in points with 293 points ahead of Brabham (289) and Rasmussen (272). There are five races to go in the championship with the next round taking place at the Nashville street circuit.