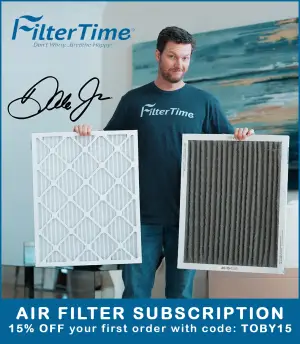 Kaden Honeycutt, who has made two NASCAR Camping world Truck Series starts this season with G2G Racing, has reached a three-race driving deal with On Point Motorsports, which will kickoff with next weekend's CRC Brakleen 150 at Pocono Raceway.
For the native of Willow Park, Texas, this ride is the culmination of a childhood dream.
"Words can't describe how exciting this is not for just me but for my family and supporters that have been involved in my racing career," Honeycutt said in a press release. "This is what I have wanted to do for my entire life – work for a great team and drive a race car at the same time. I cannot thank Steven "Bones" Lane and On Point Motorsports for this opportunity."
Honeycutt will have sponsorship support from his longtime partner the Friends of Jaclyn Foundation on the No. 30 Toyota Tundra.
Lane, who has been a longtime staple in NASCAR as a crew chief and team owner feels Honeycutt is the total package and is the perfect driver for his team.
"I'm really looking forward to having Kaden drive for us in Pocono," Lane said. "I have kept an eye on him for a while and I have been impressed with both his racing style and how he handles himself. He is a great fit for our team, and I think this is a step in the right direction for us as we continue to improve our organization both on and off the track."
According to the release, the 19-year old driver will also be behind the wheel of the No. 30 truck at Richmond Raceway on August 13th and Kansas Speedway on September 9th.
In his NCWTS debut, at Martinsville, Honeycutt opened eyes as he ran inside the top-20 in the No. 46 G2G Racing entry. Unfortunately, Honeycutt's debut was cut short by an accident on lap 107, but the youngster rebounded for a 21st-place finish with G2G at Nashville Superspeedway.
Honeycutt cut his teeth in the CARS Late Model Stock Tour, where he scored two wins over the course of 13 starts in 2021. Honeycutt ended the 2021 season second in the point standings.
Through five races in 2022, Honeycutt has scored a top-five and four top-10s in the CARS Tour and he sits third-overall in the series championship standings.
Additionally, Honeycutt is one of the two drivers for the RFK Racing eSports team, which competes in the eNASCAR Coca-Cola iRacing Series.