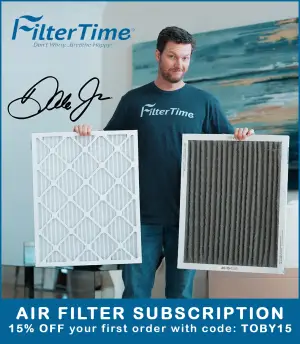 On a sweltering day just outside of Nashville, Tennessee, Jeffrey Earnhardt put in a gutty performance. The 33-year old driver, who went spinning on lap 117 after contact with Sheldon Creed, somehow came charging back to score a seventh-place finish at Nashville Superspeedway.
For Earnhardt and the No. 26 Sam Hunt Racing team, the day began with tons of promise as the grandson of the legendary Dale Earnhardt qualified in the 11th position earlier in the day.
As the race went green, Earnhardt cemented himself as a solid top-15 car and it looked like a chance at a top-10 finish was certainly possible. That is until Earnhardt washed high in turn 4 on lap 117, making contact with Creed.
The contact sent the No. 26 car around and as Earnhardt lost gobs of track position, he made a miraculous save as the caution came out.
.@JEarnhardt1 goes for a slide. pic.twitter.com/0jwwlhY2bN

— NASCAR Xfinity (@NASCAR_Xfinity) June 25, 2022
"Yeah, you know, [Crew Chief] Allen [Hart] and the guys they just kept dialing it in. We got a little too free there," Earnhardt said of the spin after the race.
With just 71 laps remaining, Earnhardt and the No. 26 team would take a deep breath and get back to work on getting the car back under him.
"They dialed it right back in. Got us where we needed to be," Earnhardt continued.
The green and black ForeverLawn machine would continue cruising through the field, and in the closing laps of the race, Earnhardt found himself in a favorable pit strategy.
The North Carolina-native had worked himself solidly inside the top-15, when several of the drivers ahead of him would have to peel off onto pit road under green flag conditions to get enough fuel for the finish.
As a result, the No. 26 car would move well inside the top-10.
Earnhardt who was sitting in the eighth position as the race reached the final few circuits, would get around Richard Childress Racing's Austin Hill to score an impressive seventh-place finish.
For Earnhardt, this seventh-place finish was a shot in the arm.
"It's great. I think any time you can get a good finish, it's a big confidence boost, you know? Second place at Talladega, that was big. But when you come and race at a track like this it's challenging and you come away with a good run, it's a really big confidence boost," Earnhardt explained.
This seventh-place finish is just the fifth top-10 finish in the history of Sam Hunt Racing (60 starts) and Earnhardt's finish is the best of any driver to pilot a car for the team aside from John Hunter Nemechek, who has scored finishes of third, fourth and fifth with the team.
Now, Earnhardt is ready for more with the team.
"Definitely something we can build on," Earnhardt stated with confidence. "Really just thankful for all of the ForeverLawn guys that are out here. We had like 70 people out here this weekend that came to support us. Thankful for their support. Sam, all of the guys at the shop that bust their butts to put this thing together and give us fast cars — they've done it all year long. Just very thankful for this opportunity and we'll take this, build on it and go get them at Atlanta."
As far as races that Earnhardt has scheduled to run the remainder of the year with Sam Hunt Racing, he has Atlanta Motor Speedway (July 9th) — which was announced this week — and Bristol Motor Speedway (September 16th), but the driver hinted in his post-race interview on USA Network that he could have more races with the team.
Sam Hunt Racing declined to comment to TobyChristie.com on whether or not they have any other races lined up with Earnhardt at this point, but regardless the driver and team put in a solid effort Saturday at Nashville Superspeedway.