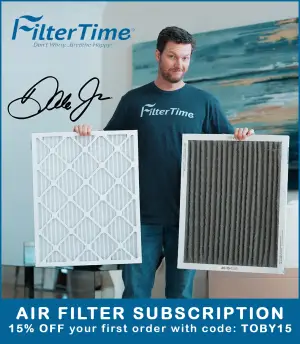 James Bickford had never before felt victory in the Interstate Batteries Monday Night Racing Pro Series, despite running up front on numerous occasions and constantly having a competitive car. Monday, at Watkins Glen, though, that all changed.
Bickford, who sat three points below the thirteen driver playoff cutline (18th in the championship standings) coming into Monday night, used a combination of strategy and speed to race his way to the front from the fifth starting position in the No. 29 Charlotte Phoenix Racing machine.
It wasn't without adversity, however, as on lap three Bickford was involved in an incident with Nick Olsen and David Schildhouse that would leave Bickford's Pro 2 Off-Road truck wounded. The incident created a four car breakaway at the front of the field consisting of polesitter Will Rodgers, Shane Van Gisbergen, DJ Cummings, and Preston Pardus.
Both Van Gisbergen and Cummings would clear Rodgers and move into first and second respectively on lap four.
On lap seven, Cummings would take the lead in the bus stop. Schildhouse, who had dropped outside of the top ten briefly, had worked his way back up to seventh.
Meanwhile, Bickford continued to fall and was at risk of falling outside the top10, as drivers like Season 4 Champion Adam Cabot, Brad Perez, and Anthony Alfredo each worked their way around our eventual race winner.
Around the 10th lap, it seemed like Perez had the best truck as he cut down a two second deficit to the leaders and started racing with them.
However, the next lap, SVG would take the lead, while a number of leaders would start to pit.
By lap 12, everyone had pitted except for Van Gisbergen, at which point it became apparent that Van Gisbergen was attempting to extend his fuel mileage to cut out a pit stop.
SVG made it successfully to his goal of lap 13, somehow extending his mileage a whole extra lap around Watkins Glen while leading. He would not maintain the lead however, as Will Rodgers would claim the top spot immediately following Van Gisbergen's pit stop. But it would only take about two laps for SVG to reclaim the lead.
A critical point in the race was this first cycle, as it allowed Bickford to use his fast repair and regain the speed his truck had lost.
Battling between Cummings and Rodgers allowed the back half of the top10 to catch up a little to the leaders.
By lap 18, Bickford had moved around Perez for fifth and Pardus for fourth.
Lap 19 was extremely adventurous inside the top10, as Perez and Schildhouse made significant contact, sending Perez airborne as he fell back to ninth.
Meanwhile, at the front of the field, the lapped car of Kase Kallenbach impeded Will Rodgers, allowing Bickford to blast into second place.
The second round of pit stops began on lap 21 with Alfredo and Cummings attempting the short pit.
At the same time though, Bickford had completely run down Van Gisbergen from several seconds back.
There was a large gap between second and third as Bickford and SVG began to battle for the lead.
Bickford, who was one of the last people to pit during the last cycle, realized what SVG was doing strategy-wise and opted to change his own strategy to match the leader.
On lap 25, Bickford finally had to pit. SVG would follow the next lap, along with Perez, Pardus, and Colin Fern, who had also extended their windows to try and make the remainder of the race on one stop.
SVG used a great stop to maintain the lead by 1.5 seconds over Bickford. David Schildhouse, Cummings, and Cabot would follow suit, but well behind the leaders.
In just two laps, Bickford closed the gap and passed Van Gisbergen. Bickford would even begin to pull away. Just another lap later, those needing an extra stop, like Cabot, would start to pit.
Bickford and SVG, who were saving fuel, actually had been caught by Schildhouse who still had to pit one more time.
By lap 31, Schildhouse had actually driven to the lead, while the rest of the field continued to make pit stops.
The front three, who were running nose to tail, had over 20 seconds on the rest of the pack.
The front three would remain glued together up until lap 35, when with just three laps to go, Schildhouse would finally have to pit. He would exit pit road in sixth, with Perez running third, Rodgers fourth, and Pardus fifth.
An intense battle for the lead would ensue.
With two laps to go, SVG would get to Bickford's back bumper in the bus stop, but would nearly wreck on the exit. He would fall to almost a second back as a result.
Van Gisbergen would spend the next lap recomposing himself, until he finally caught Bickford again heading toward the bus stop.
Van Gisbergen would dive to the inside, and the two would make huge contact. Both drivers ended up sideways and continued to beat and bang all the way through the carousel, where finally Bickford would end up back in front.
SVG would get one last chance at it, catching Bickford going into the final corner and giving him a huge shot on entry. Bickford would slam the outside wall, but would hang on for his first career victory.
Van Gisbergen would still come home second. Perez and Rodgers would wreck while crossing the line fighting for third, with Rodgers getting the spot. Perez would come home fourth, with Preston Pardus rounding out the top five.
Here are the complete race results from the Interstate Batteries Monday Night Racing Pro Series SimSeats Challenge at Watkins Glen:
29-James Bickford
97-Shane Van Gisbergen
55-Will Rodgers
60-Brad Perez
42-Preston Pardus
20-David Schildhouse
17-Adam Cabot
23-Anthony Alfredo
21-Max Kennon
10-DJ Cummings
6-TJ Majors
86-Collin Fern
98-Presley Sorah
6-Ryan Vargas
24-Nick Olsen
07-Ford Martin
75-Landon Huffman
15-Garrett Smithley
1-Gary Sexton
46-Steven Ellis
63-Boris Cook
41-Matt Stallknecht
10-Brandon Brown
77-Devon Henry
2-Robby Lyons
11-Steve Auffant
50-Gabe Wood
53-Justin Melillo
28-Ron Capps
4-Brett Baldeck
12-Brandon Brown
57-Seth Eggert
99-Mark Rebilas
88-Mike Clay
94-George Balfanz Jr.
84-Kase Kallenbach
58-Charli Brown
33-Ruben Garcia
Here is the podium eSports broadcast of the race, if you happened to miss the action, or would simply like to watch the race again: