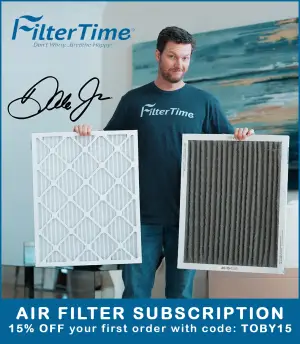 Beginning with the 2022 NASCAR Cup Series season, JTG Daugherty Racing will be returning to the organization's roots, shuttering the team's second entry and focusing their efforts on becoming an extremely competitive single-car NASCAR Cup Series operation. Brad Daugherty – the organization's co-owner — confirmed the news in an NBC media availability on Tuesday Afternoon.
The official determination was given when Daugherty was asked about the prospects of obtaining a second charter for the 2022 NASCAR Cup Series season, after the team fielded one of their two entries without a charter this season, after the team's partnership with Todd Braun was terminated, in favor of Spire Motorsports.
"No, we're not going to pursue another charter," Daugherty said. "We started out, I had a good buddy that told me ten years ago; 'if you've got one bad race team, then why have two, it just makes it even more difficult,' and that was Dale Jarrett, and it's true, we kind of got into this second car because we've been very fortunate with our sponsorship model, we've been able to have an excess of sponsorship dollars that we had to put somewhere, and we were asked to put it into a second race team, so we did it for several seasons, had a lot of fun with it, made some of our business partners a lot of money, but it made it hard on our focus."
Brad Daugherty discussing the teams 2022 plans on today's call.#NASCAR pic.twitter.com/ALWrfET3wN

— RJ Starcevic (@RJStarcevic) August 31, 2021
"We want to be a really strong one car race company and that's what we're going to go back to next season," Daugherty continued. "We can't wait, we really think we're going to surprise people with our performance, because we've got some great commitments from our partners in the business, that we haven't had since I've been racing for 25 years."
Daugherty did not confirm in his media availability if either Ryan Preece or Ricky Stenhouse Jr would be returning to the team in 2022, however, TobyChristie.com has reached out to the organization for a comment on each driver's contract status, but has yet to receive a reply at the time this story published.