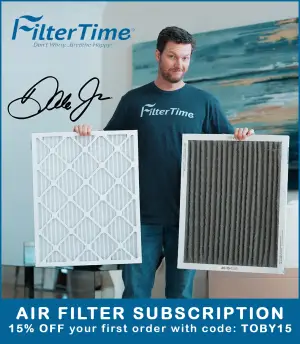 After the No. 99 of Mason Massey crashed out at New Hampshire in July, BRUNT Workwear didn't have the exact debut they were looking for when entering the world of NASCAR sponsorship.
Instead of walking away entirely, the company is doubling down and reuniting with Massey and Team BJ McLeod Motorsports for the Wawa 250 at the Daytona International Speedway later this month.
"I'm really excited to have BRUNT on the car again for Daytona International Speedway," Massey told TobyChristie.com. "They are a very motivated group, and It means a lot to me that they wanted to come back on board so quickly. Our team can't wait to see the BRUNT colors under the lights at such a historic track!"
Mason brings a tough-as-nails, underdog approach to the track that mirrors the values we hold here at BRUNT.

We're super excited to have had the opportunity to partner, and cannot wait until race-day! 🙌 https://t.co/GUtQEBU29n

— BRUNT Workwear (@bruntworkwear) July 7, 2021
Eric Girouard, the founder of BRUNT workwear, admires Massey's demeanor and work ethic for his racecraft. That same underdog mentality, matching with the core values of the brand and Massey's maturity, makes for a perfect match.
"I see a lot of similarities between racing and business, and the only thing I can guarantee is neither racing or building a business will ever go perfectly," Girouard told TobyChristie.com. " It's not about being perfect; it's about how you handle yourself when things don't go perfectly. Mason handled himself like a true professional and a class act that focused on looking ahead, not in the rearview mirror. He's just getting started, and I couldn't be more proud to support a driver with his level of focus and determination."
Awesome day with the @bruntworkwear folks! Such a fun group of guys, and I couldn't be prouder to have them on my car this weekend. All gas no brakes right fellas? Let's go get em this weekend at New Hampshire👊🏻#Hammerdown pic.twitter.com/IeTscSJTGb

— Mason Massey (@Mason_Massey) July 16, 2021
The Georgia driver has spent his Xfinity Series career of 15 starts with Team B.J. McLeod Motorsports, debuting last season at Las Vegas. Before his crash at Loudon in July, Massey was riding a 14-race streak of running at the finish.
"I'm thrilled to have Mason, a part of our team," McLeod told TobyChristie.com.  "Mason has shown a lot of promise this year as he develops his skills through more seat time.  He's proven to be a very well-rounded race car driver."
Massey has never driven an Xfinity Series car at Daytona, but he does have a top 20 finish under his belt at the Talladega Superspeedway driving for McLeod.
Fans can see the BRUNT Workwear colors fly again for the Wawa 250 on Friday, August 27th at 7:30 p.m. EST on NBCSN.