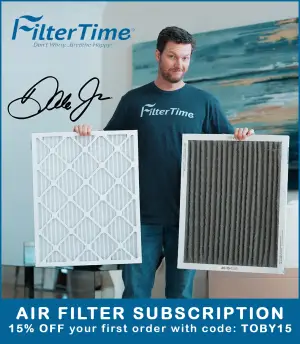 When Quin Houff and the No. 00 StarCom Racing team pull up to Watkins Glen International and unload their car from the team hauler, they'll be sporting a very special paint scheme this weekend.
Houff's car will feature sponsorship from Sungate Kids as well as Share Pregnancy and Infant Loss Support. The scheme, which has a base white color accented with an array of pink, purple and blue, is as bold as the organizations that are adorning the vehicle.
The team will also sport a brand new sponsor on the hood of the car in the Food Allergy Research and Education (FARE).
The team released a render of the scheme, which was designed by Ryan Daley on Tuesday:
SCR teams up with recurring partners, @sungatekids and Share Pregnancy and Infant Loss Support, along with a new 2021 partner, @FoodAllergy, at @WGI on Sunday, August 8 for the #GoBowling at #TheGlenRace. The blue, black and pink Chevy #00 will be piloted by @P1_Houff. pic.twitter.com/AmiLmgzU3i

— StarCom Racing (@StarcomRacing) August 3, 2021
Houff, 23, has had a trying season, which has been filled with seven DNFs (did not finishes) in the opening 22 races of the year. His last outing at New Hampshire Motor Speedway, Houff got into a bit of an altercation with Ryan Newman.
Houff also had a strange incident at Nashville, not of his doing, a month ago, when the tire on his No. 00 car flew off on the opening lap of the race.
Still, even with the bad luck in 2021, Houff and his team are plugging along and have a best finish of 24th, which Houff secured at Martinsville Speedway in the spring. The No. 00 team will look to better that this weekend and will hope to start building momentum toward 2022.