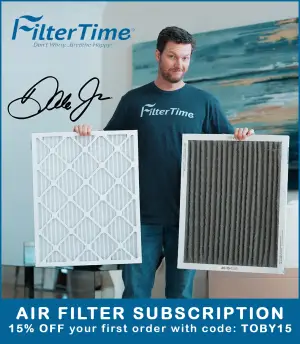 In an over three-year project that is finally seeing its finish line, NASCAR Next alum Will Rodgers is getting back into the driver seat.
Rodgers is joining Sam Hunt Racing in a multi-race deal for the 2021 season, returning the 26-year-old driver to the Xfinity Series for the first time since 2019.
"I'm thrilled to be aligning with Sam Hunt Racing for our part-time schedule in the NASCAR Xfinity Series this year," Rodgers said. "Sam's program has really exceeded my expectations and, with the support from Toyota, has proven to be a great place for development for drivers like myself. The three tracks we've selected should help with my personal growth and also play to my strong suits – road course racing."
Rodgers, NASCAR's only active driver from Hawaii, is expected to make three starts in 2021. He'll make his season debut at Nashville in June. Rodgers later will tackle the Indy road course, and the Charlotte Roval later this season.
GoodRx.com, an online service dedicated to saving patients money on their prescriptions, will serve as the primary sponsor.
But the scheduled starts for Rodgers could be some of the most important starts of his career. Rodgers is racing to raise awareness for liver health, a topic that the Hawai'i native is very familiar with.
In 1997, at the age of three, Rodgers was diagnosed with Primary Sclerosing Cholangitis (PSC), a chronic liver disease. The diagnosis was only the first step on the road of a stark deviation from a traditional childhood. By the time he was five years old, Rodgers had endured two liver biopsies and numerous colonoscopies. Doctors from around the country flew to Baltimore, MD, to study Rodgers' case.
By age 8, Rodgers' symptoms had become dormant, allowing him to focus his childhood on other things. He was introduced to go-karting by his mother Shari and became a Hawaii State Champion within 18 months. His eventual move to California led to a host of racing anything with an engine, from motocross to off-road vehicles.
An introduction to NASCAR came in 2016 with a part-time ARCA Menards West schedule, before graduating full-time in 2017. A handful of wins in both East and West later, Rodgers made his Xfinity debut in 2019 with Brandonbilt Motorsports.
Now, Rodgers is launching his own initiative under the Will Rodgers Liver Health Foundation. RaceToEndHepC.com is designed to motivate fans to take their liver health seriously and end the stigma behind the disease.
What Is Your Purpose? I'm proud to announce my partnership with @GoodRx & @orasure, supporting our first campaign to advocate for liver health! Race To End Hep C will help drive awareness, education, testing and treatment for Hepatitis C. #racetoendhepc #nascar pic.twitter.com/OWZCGC5ZyM

— Will Rodgers (@willrodgers65) June 8, 2021
"After three years of development, I'm so proud to have the opportunity to debut our 'Race To End Hep C' campaign being supported by several outstanding organizations," Rodgers explained.  "As the Will Rodgers Liver Health Foundations' first public campaign, Race To End Hep C will be backed by GoodRx, AbbVie, OraSure Technologies, and Kelly Benefits. I couldn't ask for better strategic partners on this journey as each one plays a crucial role in building awareness, promoting testing, and providing treatment for those affected by Hepatitis C. Together, we're leading the charge and the Race To End Hep C."
The scheme was designed by Ryan Pistana. The Texas designer also worked on Rodgers' Xfinity debut scheme in 2019.
"When I heard the news of GoodRx and Race to End Hep C jumping on board, I got straight to work," Pistana told TobyChristie.com. "We decided on a design that best represented the GoodRx brand, and will still be easy to spot on the track. I'm very thankful to have worked with Emily Butler from Truex Management Group as well on this project, and she was a big help when it came to vector logos, brand guidelines, and her artistic ability to have the both of us have Will and GoodRx look their best!"
In addition to GoodRx, and OraSure Technologies supporting the effort, long-time partner Kelly Benefits will rejoin Rodgers for his starts in 2021. Kelly Benefits was on board the No. 86 Camaro during Rodgers' first Xfinity season in 2019.
"Kelly Benefits is excited to once again support Will Rodgers as he races in the NASCAR Xfinity Series," said Frank Kelly III, Chief Executive Officer of Kelly Benefits. "Will Rodgers represents the Kelly Benefits brand with excellence – he is a top young driver who is dedicated to a first-rate performance every time he races and we are happy to be able to partner with him and his team again."
It'll be Rodgers' first-time on-track in the Xfinity Series since 2019. His expectations after a two-year hiatus remain unchanged from that season.
As Rodgers explained  – "My expectations this year are no different from any other time I've had the opportunity to drive quality race cars – represent our partners well at a high level, challenge the performance of the car and ultimately have a fun time….at the end of the day, if it wasn't fun for everyone supporting this team, what's it worth? With that said, I hope to match the proven performance of this team at least thus far and hope to add some really solid results."
Fans can see Rodgers make his 2021 debut at Nashville Superspeedway on Saturday, June 19th, 3:30 PM EST on NBCSN.