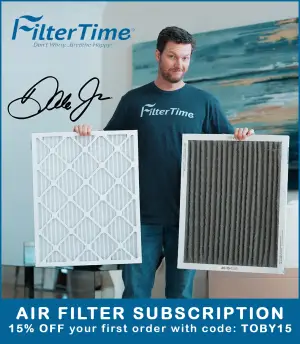 Sure, Ryan Ellis may be running a slim part-time NASCAR schedule in 2021, but the persistent 31-year old driver, who hopes to make it into the field for Saturday's NASCAR Xfinity Series Pit Boss 250 at Circuit of the Americas in the No. 99 BJ McLeod Motorsports entry, stays plenty busy with his day-to-day life. Between racing, playing hockey, expecting his first child in August, trying to attract sponsorship, having a new day job as a CBD salesman and more, things can certainly get quite hectic.
"I'm a normal human, and I have normal problems," Ellis said in an interview with TobyChristie.com.
However, even with how hectic things are, Ellis is keeping his eye on the prize this weekend.
Ellis is one of 43 drivers who will attempt to make the 36-car field this weekend, in what is an absolutely stacked entry list. Even with Cup Series drivers like Tyler Reddick in go-or-go-home rides, and a bountiful harvest of road racing aces in the field, the California-native is going into Saturday's qualifying session for the race with confidence.
"I feel confident that we're going to make it, because I have confidence in my road course ability," Ellis, who has started nine road course events in NXS competition over the years, explained. "I have confidence in what BJ and the team have put together with their road course program, but if either of those falter, if either of them have a mistake, if we're a little bit off on setup, if we don't hit our qualifying setup right, or if I slide a tire, we don't have a lot of room for error. So, that's kind of my mindset. I'm going in like it's mine to screw up. Either we could miss it on the team side or the driver side, but I'm confident that if we both do our parts, we're going to be in the race."
Ellis even admits that not only is he confident in qualifying, he feels he can truly contend for a top-15 to 20 during the race, and if a rain storm breaks out during the race, Ellis feels a top-10 is definitely within reach.
"With COTA, I was like, 'Yeah, let's get a top-10, I can do that. Not a big problem. No big deal,' then I saw the lineup and I'm like, 'Okay, let's back that up a little bit,'" Ellis said. "Six Cup guys, my goal was 15th, so maybe now, my goal is 20th. But I think just making the race at this point, it's not necessarily a goal, but an expectation for me. But I really want that top-15. Unless it's a rain race, then let's go win the thing. I'm sure there are a couple of other guys like an Andy Lally or Spencer Pumpelly that would have something to say about that too. But I have faith that if it rains, a top-10 would definitely be my goal. I would be upset if we weren't in the top-10."
Another cool thing to note about Ellis this weekend, is that he'll be teammates with the someday NASCAR Hall of Famer Kevin Harvick, who will be driving the No. 5 BJ McLeod Motorsports machine to gain a little extra experience at the newest road course on the NASCAR schedule.
"I wonder if I'll even get an autograph?" Ellis joked. "I don't know if I'll see him once. I don't know if he's going to be in the hauler, I think he's going to be pretty busy. It's really cool for the race team. If BJ can get a race win with Kevin Harvick driving — I'm sure that's something he wasn't anticipating happening two or three months ago — that's so cool for them. It would be cool to say it. It would suck if he goes and wins the race and I'm 20th or something, but I honestly, if I see him, I'm going to be like, let's take a picture. At the end of the day, it's just a journey and I'm just part of it at this point. I'm excited to say he's a teammate, even if I don't know how much I'll see him."
If Ellis does indeed make the field, it'll be just his second NASCAR Xfinity Series start of the 2021 campaign. Not ideal as any racer wants to always race more, but the underdog racer has scratched and clawed for everything that he has gotten to this point in his NASCAR career, even if it doesn't always go to plan.
In fact, even Ellis' personal life sometimes mirrors the not-how-I-expected-it-to-be nature of his racing life.
Ellis is a huge — okay, that's most likely an understatement — fan of the Washington Capitals NHL team. In 2018, as the team was chasing their first Stanley Cup title, Ellis attended game four of the Finals, which ended in a 6-2 Capitals victory setting the team up for the ultimate prize if they could win Game five a few days later. Unfortunately for Ellis, he was in Michigan for the NASCAR weekend the day of Game 5.
"[I attended] Game four and then Game five was the Thursday or Friday at Michigan," Ellis recalled. "And then I had to land the plane and run to the bar and watch them win the Cup there and basically cry at a random sport's bar in Michigan."
Okay, so watching your favorite sports team win in a random bar while crying with a bunch of strangers doesn't sound optimal, but it doesn't sound that bad. That is, until you factor in the song that was blaring through the bar at the zenith of Ellis' biggest moment as a sports fan.
"They were literally playing 'What Did the Fox Say' as my childhood dreams came true," Ellis stated with a hint of embarrassment. "And I was like, 'This is not how I envisioned it happening in my mind,'"
Although everything in the life and career of Ryan Ellis doesn't always turn out how he expects, most of the time when he is given a chance in a car even half-way decent, he finds a way to eek out really overachieving results.
In his last outing, Ellis put together a really sporty effort as he started 33rd and finished 16th and on the lead lap at Darlington Raceway in the BJMM No. 99 ride.
Ellis surprised even himself with his strong performance at Darlington, as he had never had a car that made it mechanically to the end of a race at the 1.366-mile speedway in two previous NXS starts there.
"I don't know, I was excited to go to Darlington, but I really didn't have any expectations because I never really made a lap there," Ellis explained.
After this weekend at COTA, Ellis has more racing coming up in the near future. Ellis says he'll run at least four more NASCAR Xfinity Series races this season with the BJ McLeod Motorsports team. The races he has locked in, currently, are Mid-Ohio on June 5th, Road America on July 3rd, Darlington on September 4th and Martinsville on October 30th.
For Ellis, he enjoys his relationship with McLeod, as he feels the two have had a very similar path to get to where they each are in the NASCAR world in 2021.
"What people don't realize about BJ is he's a really cool dude. He's old school. I think we relate on a lot, and maybe I'm being too cocky here, but he's really old school and I think I'm really old school in our blue collar ways," stated Ellis. "His in building his team and me for grinding for these opportunities and having a normal life. So, I think there is a mutual respect there both on the driving side and on the corporate side with the hustle. But he's always been respectful of me and my partners and that's what is important to me. And that's what keeps me on track. He keeps bringing good and competitive race cars and great value for our sponsors."
While Ellis hopes to turn into the feel-good story of the weekend at COTA, his fans hope to someday see him run a full-time schedule. Ellis has not run more than four races in any NASCAR National Series since the 2016 season. Is Ellis content with a small part-time role? Or does he still see a part-time opportunity on the horizon?
"I'm appreciative of everything year-to-year. Because I literally, more than anybody probably, every time I get out in one of these cars, I don't know if it'll be my last time," Ellis said emphatically. "Luckily, this year, I have some guarantees, but I'm just appreciative. Like, oh my god, I get to do this again. Like I said, I was literally in tears at Darlington just being able to do it again. I think going forward, my opportunities are as big as my relationships are with my partners. With Tom and TJ [Keen of Keen Parts and CorvetteParts.net], I feel we have a really good relationship. I want to keep doing all we can to make them happy. If they want to up stuff next year and run a few more races, then who knows. I really don't think it's out of the realm of possibilities to be full-time in Xfinity next year. I think that would be really cool. That's definitely my goal, I don't know how realistic it is, but it's definitely a possibility."
The Keens have been in the NASCAR sponsorship circle for years as they were a long-time sponsor of the now defunct Go Fas Racing, where Ellis actually served in public relations. Ellis honestly feels that the Keens are like family.
"I love Tom and TJ. They're great people. They're like my road mom and dad and it sucks because I haven't been able to see them in a long time. Tom calls me probably every couple of days and we BS and chit chat. It's great to have a great relationship with your sponsors and not just call and, 'Hey we're running this race hope you guys make it out,' we talk about life and are friends."
TJ had been basically tagged as the team's mom in her time as a sponsor for the No. 32 NASCAR Cup Series team, but with the COVID-pandemic in full force last season and NASCAR restricting the people allowed in the garage with each team, TJ didn't get to be there as the team she loved so much and was so integral to, folded.
"TJ, it broke her heart not being there, especially in the dying days of Go Fas Racing," Ellis sighed. "That was huge to her. To see her not be able to do that was really sad. But she's really excited and I think she's going to come out to Mid-Ohio in our next race. I don't think I've seen her at a race since the Daytona 500 last year, so now I have to go out and win Mid-Ohio."
If Ellis can click off some solid results at Circuit of the Americas this weekend, and in the rest of his remaining starts of the 2021 NASCAR Xfinity Series season, who knows, he could just end up being a full-time driver in the sport at the age of 32. Would it be unexpected? Yes, but that's typically how things end up for Ellis.