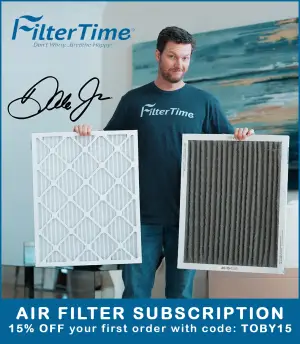 NASCAR Xfinity Series driver Tommy Joe Martins and Martins Motorsports confirmed on Wednesday that an extension has been reached with partner Market Rebellion for the 2021 season.
"It means so much to me to have Market Rebellion come back to the team in 2021 with an expanded partnership," Martins said. "It's really exciting to have a sponsor see the value in Martins Motorsports and what we're building here. Dirk, Pete, Jon, & everyone at Market Rebellion have been so supportive of me since that first race at Charlotte last year, and we're looking forward to an exciting stretch of races this fall".
Market Rebellion will serve as a primary sponsor in a handful of events in 2021, starting with the Indianapolis Road Course in August, Las Vegas in September, and Texas in October.
The company, co-founded by Pete Najarian and Dirk Mueller-Ingrand, gives independent investors the chance to learn more about how to succeed through trading. The company offers tools, education, and insight from established traders for an opportunity and trading success.
"Tommy Joe exemplifies the commitment to performance through discipline that we preach to our community of traders, in a high-speed exciting way," said Najarian.
Market Rebellion joined Martins Motorsports in 2020, with Driver No. 44 taking them to a 24th place finish in their debut. The one race deal in 2020 becomes a three race deal in 2021.
"Out of all the countless investments we analyze and make, this is definitely one of the most fun for our community of Market Rebels," said Mueller-Ingrand."We're thrilled to continue our partnership!"
The designer responsible is Ryan Pistana, a Texas based designer who has helped to craft a variety of Martins Motorsports schemes over the past few seasons. A contest in 2019 helped introduce Martins to Pistana's work. The 2021 scheme features a unique metal-tearing design that Pistana crafted.
"As for the design, the people at Market Rebellion really liked the Sharp edges and linear design on last years car, so this year I decided to keep a similar theme, but add a little more ruggedness to it with the sheet metal tearing away revealing the red underneath," Pistana told TobyChristie.com. " The sponsor enjoyed my first version, and we didn't really have to tweak much after that. So overall a really fun project, where we got to keep my original creation"
As for Martins Motorsports in 2021, the team is continuing an impressive ascension into the Xfinity point standings. After eight races last season, the team found themselves in 24th, only scoring one top-20 finish. Fast forward a year later, the little team that could is sitting 15th in points, with five top-20 finishes in eight races including an 11th place finish at Talladega. Additionally, team No. 44 has completed an impressive 1,233 laps out of a possible 1,260. They've finished on the lead lap in every race but two thus far in 2021.