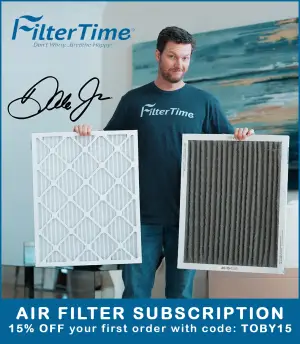 Jason White – who returned to competition in NASCAR's top-three series in February after a seven-year hiatus — will make his second start of the 2021 NASCAR Xfinity Series season at Talladega Superspeedway, driving for MBM Motorsports.
A-Game, who sponsored White's return to competition in NASCAR's National Series at Daytona, will once again return as the primary sponsor for the Richmond, Virginia-native's No. 13 Ford Mustang at the 2.66-mile superspeedway.
Alongside White at MBM Motorsports for next weekend's Ag-Pro 300 at Talladega Superspeedway will be Timmy Hill – piloting the No. 66 Auto Parts 4 Less Ford Mustang — and David Starr – piloting the No. 61 Whataburger Toyota Supra.
"After the race I am looking forward to drinking A-Game sports drink to rehydrate while eating a Whataburger (no onions) as I order a lift kit on AutoParts4Less.com," said MBM Motorsports owner Carl Long. "In all seriousness, we are lucky to have added a talent like Jason to our lineup for Talladega and I look forward to celebrating strong finishes from the MBM drivers this weekend. They are all gifted superspeedway drivers and this is another opportunity to showcase their talent."
Upon returning to the NASCAR Xfinity Series in February, White picked up the second top-10 finish of his career, finishing in 10th-place for RSS Racing in the season-opening Beef. It's What's for Dinner. 300 at Daytona International Speedway.