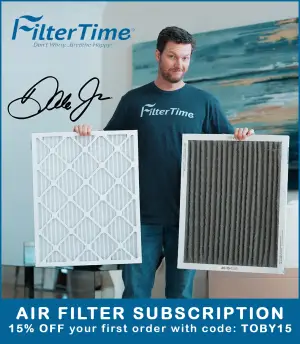 The highly anticipated Saturday evening heat races for the Cup Series and Camping World Truck Series have both been canceled following the result of the first heat race for the Truck Series.
As soon as the race went green, almost the entire Truck Series field in Heat 1 was subjected to windshields, front ends, and grilles packed with thick mud from the weather at Bristol Motor Speedway on Saturday. NASCAR red flagged the heat race to allow the teams to clean their trucks. Eventually, light rain moved into the area.
As a result, NASCAR has opted to cancel both the Truck heat races and the Cup races that were scheduled to take place later this evening. In addition, the Pinty's Truck Race On Dirt is canceled for Saturday evening.
Tonight's NASCAR Cup Series and Camping World Truck Series qualifying races from @BMSupdates have been canceled.

New Sunday schedule:
3:30 PM ET: Food City Dirt Race (FOX)
Approx 9 PM ET: Pinty's Truck Race on Dirt (FS2)

— NASCAR (@NASCAR) March 27, 2021
As for the rest of the weekend, the Cup Series race is scheduled to take place at 3:30 PM EST on FOX as previously scheduled. The Camping World Truck race will move to FOX Sports 2 at 8 PM EST on Sunday evening following the Cup race.
The consistent rain in Bristol throughout the day made it a challenge to keep the track conditions as best as possible for the race. Bristol Motor Speedway even brought late models into the facility to help pack the dirt in to produce a racing line in the mud.
Rain is expected to be in the Bristol area tomorrow as well, which could potentially force any on-track activity to be affected.