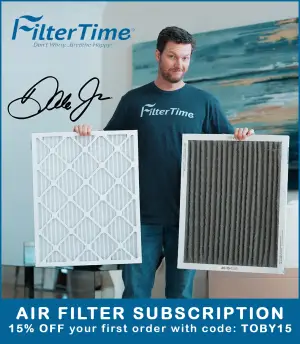 It's no secret that Hendrick Motorsports driver Alex Bowman shares a major love for animals, and sponsor Ally is ready to support his love with a special on-track paint scheme.
Debuting during the NASCAR Cup Series race next weekend in Phoenix, Bowman will run a special purple and orange design as Ally Financial is partnering with the Best Friends Animal Society for the 2021 season.
The news was shared Thursday morning via Hendrick Motorsports social media. Who better to announce the news than Bowman's adopted dogs – Roscoe and Finn.
Roscoe and Finn shared some fur-bulous news with @Alex_Bowman. 🐾 @allyracing | @bestfriends pic.twitter.com/8YFZw5vcHV

— Hendrick Motorsports (@TeamHendrick) March 4, 2021
With the paint scheme to start the collaboration, Ally Financial will donate $1,000 to an animal shelter in each host city where the NASCAR Cup Series visits, with the goal set for $33,000 by the end of 2021.
Additionally, the Arizona driver will personally match the $1,000 donations and will auction off his race-worn helmet from Phoenix.
"Ally has taken a big interest in my passions and this relationship with Best Friends could not be a better fit," Bowman said. "Knowing each week when we go into a new race market that we are helping a local shelter is going to be special. The dedication of the Best Friends organization has made to ending kill shelters by 2025 is definitely admirable. Having a rescue pup myself, Roscoe, I know firsthand how special it feels when you sign those adoption papers and you know you are going to give that pet a great life. Running this special scheme on our No. 48 Chevrolet at my home track is going to be really cool. Hopefully, we can park it in victory lane and make an even bigger donation to the shelter in the area."
Ally isn't stopping at a $1,000 donation either. If the 27-year-old driver wins a race in 2021, Ally will up the donation to a local shelter to $10,000.
"One of the lessons of 2020 for many—including Alex and me—is that our pets mean more to us than ever. This donation is a great way to leave a positive, lasting impact on local host communities by helping their shelters care for rescued animals and find them happy homes," said Andrea Brimmer, chief marketing and public relations officer at Ally. "We hope to raise awareness and support for the important, lifesaving work of Best Friends through our donations and the incredibly cool paint scheme that Alex will sport in Phoenix."
Bowman's crew chief Greg Ives, a fellow rescuer, chimed in on social media, sharing that his family rescued a cat in 2018.
Our family rescued our cat Piccadilly in 2018 and she is a perfect fit for our family! Adopting a pet was a special experience for us and I am excited to see how much this partnership helps animal shelters across the country. https://t.co/AgIMuGW3Bi

— Greg Ives (@Ives_Greg) March 4, 2021
The first donation being given in Bowman's home state of Arizona will be to Halo Animal Rescue in Avondale, Arizona.
Ally joins fellow NASCAR sponsor Credit One Bank, as corporate partners to the Best Friends Animal Society.
"As we race toward the 2025 goal, we are so grateful to have allies like Ally and Alex Bowman supporting Best Friends Animal Society and our network partners," said Marc Peralta, chief program officer at Best Friends. "These generous donations are going to make a big difference for homeless pets across the country and will also raise awareness of how people can help shelters in their own community. We welcome every pet lover to join our efforts."
Fans can see the brand new No. 48 Ally / Best Friends Camaro hit the track at Phoenix Raceway on Sunday, March 14 at 3:30 PM EST on FOX and the FOX Sports app.