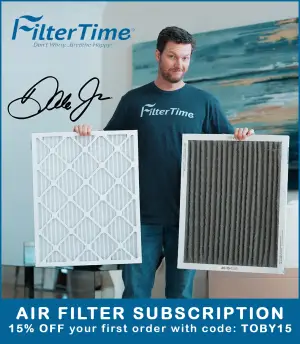 Big Machine Racing has tapped Danny Bohn to pilot the team's No. 48 Chevrolet Camaro in the season-opener at Daytona International Speedway, the organization announced Monday Afternoon.
North American Motor Car will be the primary sponsor of Bohn's No. 48 at Daytona, in a one-off run for the newly-formed NASCAR Xfinity Series organization. Jade Buford – the team's primary driver for the 2021 NASCAR Xfinity Series season — will run the remaining 32 events on the series' 2021 schedule.
The Beef. It's What's for Dinner 300 at Daytona International Speedway will serve as the series debut for Bohn, who will return to On Point Motorsports in the NASCAR Camping World Truck Series in 2021.
"Scott Borchetta and North American Motor Car have been instrumental in supporting me in my journey rising up through the stock car racing ranks," said the 32-year-old Bohn. "This is just another step and to have them both on the car for Scott's debut as a team owner and my Xfinity series debut makes it all the more special to me, especially being at Daytona."
Bohn's only superspeedway start came in in October 2020, piloting the On Point Motorsports No. 30 Toyota Tundra. The Freehold, New Jersey-native finished 34th after being involved in a lap 12 incident.
"It's great to be working with Danny again," said Borchetta. "He's a born racer and he knows how to be around at the end of these very challenging races. Daytona is the great equalizer and it takes skill, patience and staying out of trouble until it's time to go. If he can do that, and we get a little Lady Luck on our side, we stand to have a very strong debut."
As previously announced, Patrick Donahue will be calling the shots for the No. 48 in 2021.
"North American Motor Car is extremely excited to be teamed up with Danny Bohn and Scott Borchetta's Big Machine Racing No. 48 car for Daytona," said North American Motor Car Chief Operating Officer Andy Hill. "We believe it is going to be a breakout year for Danny and we are extremely proud to be a part of it."
The 2021 NASCAR Xfinity Series season will begin with the Beef. It's What's for Dinner 300 at Daytona International Speedway on February 13th.