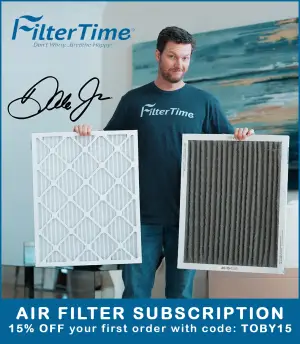 AM Racing will continue to field a full-time entry in the NASCAR Camping World Truck Series for long-time driver Austin Wayne Self next season, the organization confirmed on Friday Afternoon.
The Austin, Texas-native will return to the NASCAR Camping World Truck Series for the sixth consecutive season, scoring a total of two top-fives and nine top-10s in 107 series starts.
"I'm excited about the 2021 season," said Self. "It's been a very productive offseason for our group and with some huge momentum at the end of last season, I think everyone is looking forward to getting the new year going and seeing what kind of results we can deliver."
As previously announced, Ryan Salomon will be the crew chief of the No. 22 AM Technical Solutions Chevrolet Silverado in 2021, after taking over the role from Eddie Troconis with four races remaining in the 2020 season.
Well guess the cats out of the bag. Pumped to see what this season has in store for us. Hope to continue the momentum we ended the last 4 races with. Thankful for the opportunity everyone at @AMRacingNASCAR is giving me. #NeverGiveUp #LetsGo https://t.co/Vd8IAm0LgF

— Ryan Salomon (@RyanSalomon24) December 22, 2020
"I'm appreciative of the opportunity to continue to lead AM Racing as crew chief with Austin Wayne Self," sounded Salomon. "I think we surprised a few people with our performances at the end of the year and that has only given us the motivation and desire to make sure we continue that in 2021."
In addition to the team's NASCAR Camping World Truck Series operation, AM Racing will field an entry in the ARCA Menards Series in 2021, beginning with the season-opener at Daytona. The organization absorbed Win-Tron Racing – the ARCA Menards Series team owned by team GM Kevin Cywinski —  over the winter and will combine the two entities ahead of the 2021 season.
"There is a lot of good things happening at AM Racing," offered Cywinski. "With the changes we made during the offseason personnel-wise, as well as solidifying our infrastructure, we believe that the upcoming season will be our best yet.
"AM Racing looks forward to Daytona in both the ARCA Menards Series and NASCAR Camping World Truck Series with Howie DiSavino III and Austin Wayne Self."
GO TEXAN, AM Technical Solutions, Don't mess with Texas, AIRBOX Air Purifier, CForce Bottlin Company, Flying Circle, and Kreuz Market will all continue their relationship with AM Racing in 2021.