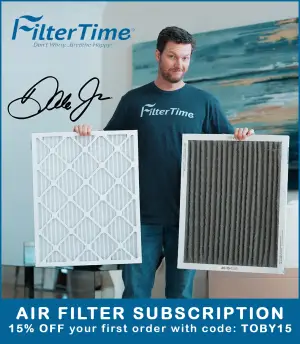 On Monday Morning, DGM Racing announced that long-time driver Alex Labbe will return to the NASCAR Xfinity Series with the organization in 2021.
@AlexLabbe36 returns to DGM Racing driving the No. 36 in 2021. While a full season is planned, funding is still being secured for the second half of the year. pic.twitter.com/OV0E7Jb8LX

— DGM Racing (@dgm_racing_) January 25, 2021
The team plans to have the St. Albert, Quebec-native return to the No. 36 Chevrolet Camaro full-time in the NASCAR Xfinity Series in 2021, but the organization is still looking for sponsorship to cover the second half of the 2021 season.
In a career season for the 27-year-old, Labbe scored the first top-five finish for DGM Racing in the NASCAR Xfinity Series – finishing fourth place at Charlotte Motor Speedway's "ROVAL" — while earning five top-10 finishes. Labbe rounded out the season 14th in final points.
The season-opener at Daytona International Speedway will take place on February 13th, 2021. DGM Racing plans to enter four entries in the event, with Caesar Bacarella (No. 90), Mario Gosselin (No. 91) and Josh Williams (No. 92) joining Alex Labbe (No. 36).