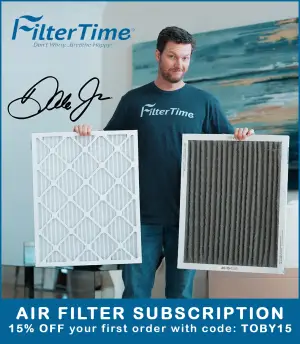 David Gilliland Racing is entering the 2021 season with some major changes – from team name, to driver lineup and car numbers .
One major piece of their own Silly Season was shared on Thursday as DGR confirmed their driver and crew chief pairings for the upcoming season. DGR will compete in the NASCAR Camping World Truck Series, the ARCA Menards Series, and finally the CARS Tour with support from Ford Performance.
Starting off in the NASCAR Camping World Truck Series, Tanner Gray and Shane Wilson will remain together after an impressive rookie campaign with four top-5 finishes and eight top-10 finishes in his first full season. Hailie Deegan will move from a full-time ARCA Menards Series schedule to a full-time Truck Series schedule, driving the No. 1 Ford F-150 for DGR. Monster Energy and Toter will serve as the primary sponsors for her first full season in the Truck Series. Two-time Truck Series Champion crew chief Mike Hillman Jr. has been tapped to guide Deegan through her first season. In her lone start at Kansas in 2020 in the Truck Series, Deegan brought her No. 17 F-150 home in the 16th position, marking it as the best debut for a female driver in series history.
Taylor Gray will run a part-time schedule for DGR in 2021, signing on for seven races starting at Richmond in April. Chad Johnston, who served as a crew chief for Kyle Larson, will call the shots for the young driver. Additionally, Gray will run the full ARCA Menards East and Sioux Chief Showdown Series in the No. 17 Fusion with Johnston remaining on the box. Gray is currently on ARCA Menards Series probation after the 15-year-old posted a video to Snapchat of him driving a race car at high speed around Daytona International Speedway.
Thad Moffitt will join Gray down in ARCA, with Moffitt expected to run at least 11 races in the ARCA Menards Series driving the familiar No. 46 Fusion. Moffitt will make his 2021 debut at Daytona on February 13th.
Additionally, Joey Iest will make a handful of ARCA East starts for DGR in the No. 54 Ford with Derek Smith as the crew chief for both Moffitt and Iest in 2021. Both Iest and Taylor Gray will make their 2021 debuts at New Smyrna Speedway on February 8th.
Moving down to the CARS Late Model Stock Tour, Joey Valento will take on the full 13 race season for CARS in 2021. Former NASCAR driver Clay Rogers will serve as crew chief for Valento starting at Dillon Motor Speedway on March 6th.