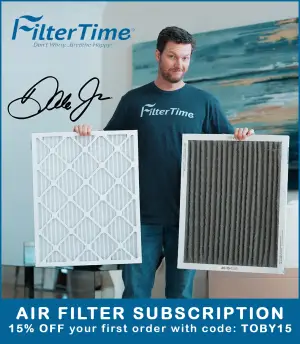 Willie Mullins and Mullins Racing will return to the ARCA Menards Series for a limited schedule this season, despite the hardships that numerous smaller businesses – Mullins Racing included — faced in 2020 because of the COVID- pandemic.
The 40-year-old driver and team owner only fielded his No. 3 Ford fusion in a pair of races last season, running the season-openers for the ARCA Menards Series – at Daytona International Speedway — and the ARCA Menards Series East – at New Smyrna Speedway.
After those two races in February, Mullins joined forces with Andy Hillenburg's Fast Track Racing, to help Hillenburg out, while also ensuring that Mullins Racing could get to the track in a more cost-effective way. Mullins ran Talladega and Kentucky in his own Ford Fusions, but with an entry registered under Fast Track Racing's No. 11.
For 2021, Mullins says that the organization plans to participate in three or four events across the ARCA Menards Series and ARCA Menards Series East, primarily dependent on sponsorship.
The organization's 2021 season will begin with the ARCA Menards Series East opener at New Smyrna Speedway on February 9th. Mullins will be piloting the No. 3 Ford Fusion in the event, while the team hopes to find enough additional funding to field a second entry for Davey Callihan – who participated in the two-day ARCA Menards Series Daytona Test with Mullins Racing last weekend, alongside Mullins and Robert Bruce.
From that point, the team will complete their "2021 Speedweeks" journey with the big show at Daytona International Speedway on February 13th, where Mullins will pilot the Crawford Sprinkler / CorvetteParts.net Chevrolet SS in the ARCA Menards Series season-opener.
New look, who dis?
We are so excited to welcome Crawford Sprinkler to the team!@KeenParts @ARCA_Racing pic.twitter.com/IzY0vf90h0

— Mullins Racing (@mullins_racing) December 30, 2020
"2020 was a rough year for everyone, and it hit our small business hard," Mullins exclaimed. "We are lucky to have Crawford Sprinkler and CorvetteParts.net step up to help, as well as long-time partner, Crow Wing Recycling. We usually race mostly out of pocket, and our pockets have come up a little bit short lately."
The Chevrolet SS that Mullins will use for February's season-opener at Daytona International Speedway, was a previous superspeedway car from NASCAR Camping World Truck Series team GMS Racing, which Mullins was able to purchase from the now defunct KBR Development.
Last February, Gravel brought the same exact car home in 12th, despite missing the entire right-side door of the Chevrolet-sponsored machine. In that same event, a piece of the nose from Gravel's car struck the front end of Mullins' No. 3 Ford Fusion, puncturing a hole in the nose of the Mullins Racing entry. Mullins went on to score an eighth-place finish in that event.
Two years before that, Sheldon Creed and MDM Motorsports brought that same car to Daytona International Speedway. Creed brought the No. 28 Untied Rentals Toyota home in third-place, but gave Mullins' No. 3 the push needed to secure his only top-five in ARCA Menards Series competition.
The GMS Racing Chevrolet is a significant piece of the puzzle, that Mullins hopes will bring the organization closer to the front in February, with a chance at leaving Daytona International Speedway with a trophy.
"We are a small team, with 90% volunteer help." Said Mullins. "We are lucky to work with former Cup crew chief, Tony Furr. He has really helped up elevate the team, and we think we are contenders every time we roll into Daytona. Our primary car the last few seasons was a Robert Yates chassis, so we really hope the addition of the GMS [Racing] Chevrolet will be that missing part."
After Daytona, Mullins is planning to field the No. 3 in the ARCA Menards Series East event at Southern National Motorsports Park on June 12th. The team has already posted on their social media platforms that they will have a second car availible to be rented for the event, but Mullins emphasized that the team's second entry will not run, if the car is not funded.
Who else is PUMPED for the @ARCA_Racing East to invade @SNM_Park June 12? We will have a second car available for rental. 👀👀that pretty orange car in the graphic. pic.twitter.com/oaBSRaLwAu

— Mullins Racing (@mullins_racing) December 18, 2020
Additionally, the organization is hoping to field the No. 3 for Mullins in the ARCA Menards Series event at Elko Speedway, but will need to find additional funding in order for the car to compete.
In the ARCA Menards Series' annual two-day test at Daytona International Speedway, Mullins posted the 10th-fastest time in Saturday's abbreviated testing session and the 15th-fastest lap overall in his No. 3 Chevrolet SS.
For an ARCA Menards Series team that is mostly volunteer-based, like Mullins Racing, superspeedway events can be an opportunity to breakthrough and compete against the series' top-teams. Add in a fast car with a proven track record, and Mullins Racing could have a legitimate opportunity to pull off an incredible upset win when the series heads to Daytona in February.
You can see Mullins Racing on-track in at least three events this season at New Smyrna Speedway (Feb 9), Daytona International Speedway (Feb 13) and Southern National Motorsports Park (June 12).
---
You can keep up with Mullins Racing on Twitter here: