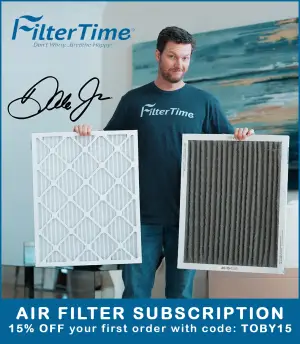 Mike Harmon Racing (MHR) will form a full-time sponsorship alliance with Wolfpack Racing for the No. 47 Chevrolet Camaro in the NASCAR Xfinity Series, the organization announced in a press release on Friday Morning.
Kyle Weatherman – who contested 23 NASCAR Xfinity Series events for the organization in 2020 — will be the full-time driver of the No. 47 Chevrolet Camaro in 2021, marking the Wentzille, Missouri-native's first full-time effort in NASCAR National Series competition.
Wolfpack Racing is a motorsports marketing firm that specializes in holistic marketing strategies and bringing the companies they work with to the forefront of racing.
"We are excited to partner with Mike Harmon Racing on the No. 47 car driven by Kyle Weatherman for the 2021 NASCAR Xfinity Series season," said Wolfpack Racing. "MHR has always shown great respect and loyalty to our Military and First Responders, which is something we at Wolfpack Racing value and are excited to be a part of. 'Americas Team,' Mike Harmon Racing, have shown tremendous improvement in performance and we expect the 2021 season to be nothing less."
In July, Weatherman earned the first top-10 finish for Mike Harmon Racing in the organization's 12-season history, finishing eighth-place in the first leg of the  Kentucky Speedway doubleheader.
"I'm so excited to drive for Mike Harmon Racing in 2021 with Wolfpack Racing on board," said Weatherman. "I'm blessed to have this opportunity , and I can't wait to see what we can all do as a team. I'm working at Mike [Harmon's] shop full-time now, as well as being a mechanic during the week to help build relationships with the team and help get the cars to the race track. I've always looked up to Mike, and he told me last year around mid-season that there's a lot of things he sees in me that he saw in himself, and I'm just really excited to work with Mike full-time this year and build myself as a driver and as a person."
Mike Harmon Racing had a breakout season in the NASCAR Xfinity Series in 2020, scoring a total of seven top-15s and 22 top-20 finishes, destroying the organization's totals from their previous 11 seasons of competition – one top-15 and four top-20s entering the 2020 season.
"We are excited for what is coming next," said team owner Mike Harmon. "Coming off an unbelievable season, to partner up with Wolfpack Racing for 2021, just opens the door to what we can achieve."
Sponsorship for Kyle Weatherman's No. 47 Chevrolet Camaro and the remainder of Mike Harmon Racing's 2021 plans will be announced at a later date.
---