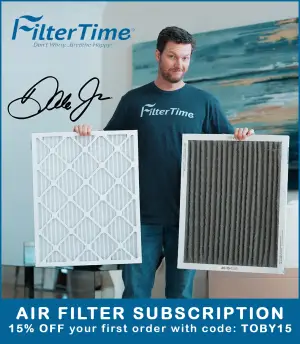 After six long seasons of part-time competition at various levels with various organizations, Jeb Burton will finally get the chance to compete for a championship, when he joins Kaulig Racing's NASCAR Xfinity Series lineup in 2021, piloting the No. 10 Chevrolet Camaro.
Nutrien Ag Solutions will serve as the primary sponsor on Burton's No. 10 Chevrolet Camaro for an undetermined number of races in 2021.
Welcome to the family, @JebBurtonRacing! 🤝@NutrienAgRetail | #TrophyHunting pic.twitter.com/s4QRyEEphm

— Kaulig Racing (@KauligRacing) November 16, 2020
"It's an honor to have this opportunity driving full-time for Kaulig Racing and Nutrien Ag Solutions," Burton said. "I've worked so hard, not only behind the wheel, to get an opportunity like this, and it couldn't be more perfect – representing a brand with the same values and beliefs as my family. This partnership represents everything we are, and I can't thank Matt Kaulig, Chris Rice and Nutrien Ag Solutions enough."
For the last two seasons, the 28-year-old has run part-time in the NASCAR Xfinity Series for JR Motorsports, earning a career-high second-place finish at Richmond Raceway in September. In 17 starts for JR Motorsports, Burton has finished inside the top-five on five occasions, while earning 12 top-10 finishes (70.5%).
Burton has also dipped into the NASCAR Camping World Truck Series pond over the last two seasons, earning a pair of ninth-place finishes in four starts for NIECE Motorsports.
2020 was a breakout season for Kaulig Racing, with their three-car organization scoring five wins, 31 top-fives and 56 top-10s, along with the organization's first ever "Championship 4" berth with Justin Haley and the team's flagship No. 11 Chevrolet Camaro.
"Jeb is  a hard worker on and off the track," said Chris Rice, president of Kaulig Racing. "He's a great fit for Kaulig Racing and our partners. I've known the Burton family and worked with them back in the 1980s, so it feels like everything has come full circle. We are going to go out and compete for wins and championships. Jeb is a guy we can build a long-term, successful program around."
The Halifax, Virginia-native will join Justin Haley as the team's two announced full-time drivers, with A.J. Allmendinger confirmed to be returning to the organization in some capacity for the 2021 season.
"Nutrien Ag Solutions is excited to have Jeb [Burton] behind the wheel of the No. 10 Nutrien Ag Solutions Chevrolet for the 2021 season," said Brent Smith, VP of Marketing, Sustainability + Proprietary Products at Nutrien Ag Solutions. "Both Jeb and his dad Ward are longtime customers of ours and have worked tirelessly on agriculture and forestry conservation and sustainability. We can't wait to lead the field with Jeb."
In addition to the primary sponsorship of the No. 10, Nutrien Ag Solutions will serve as an associate sponsor at Kaulig Racing and will continue its DocuSeries "Two-Track Mind," airing season two in 2021, with Burton's story.