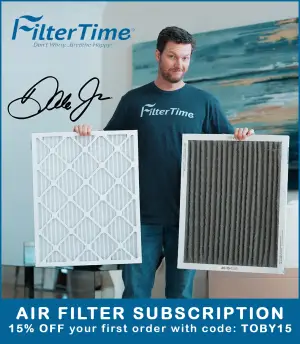 In a series of potentially misleading tweets, Kaulig Racing announced on Monday Morning that Justin Haley would be returning to the race-winning organization on a full-time basis once again in 2021, piloting the No. 11 Chevrolet Camaro for the thir consecutive NASCAR Xfinity Series season.
🚨 Kaulig Racing presents the driver of the No. 11 Chevrolet for the 2021 season!! 🚨 @AJDinger | @C_Rice1 | @MattKaulig | @NASCAR_Xfinity | @XfinityRacing pic.twitter.com/KcDqPW9zKB

— Kaulig Racing (@KauligRacing) October 19, 2020
With three NASCAR Xfinity Series victories for Kaulig Racing, Haley is tied with A.J. Allmendinger as the organization's winningest driver, after visiting victory lane in each of the last three superspeedway events at Talladega and Daytona.
"I'd first like to thank LeafFilter Gutter Protection, Matt Kaulig, Chris Rice and everyone at Kaulig Racing for an amazing partnership the past two years," said Haley. "We've grown as a team, an organization, and most importantly, as a family. I feel super blessed to have gotten the call from Kaulig Racing after my second win at Talladega that they wanted me back in 2021. They have believed in me since day one, and have stuck with me through the highs and lows. I'm extremely humbled to keep this strong partnership going into 2021 and continue trophy hunting!"
Entering the second event of the NASCAR Xfinity Series' "Round of 8" at Texas Motor Speedway, Haley and teammate Chastain both remain in the hunt to advance to the championship race at Phoenix Raceway, with the second-year driver sitting only a pair of points behind Austin Cindric for the bubble position.
"To have Justin Haley come back for a third year with us is beyond amazing for our team!" Said Matt Kaulig, owner of Kaulig Racing. "Everyone at Kaulig Racing loves Justin, and it is safe to say he has become an integral part of our family. Justin has only helped our program grow, and the proof is in the stats! I'm looking forward to many more wins and trophies with Justin in 2021."
Haley will continue to pilot the No. 11 Chevrolet Camaro in 2021 beginning with the season opener at Daytona International Speedway. Parter announcments for Haley's Kaulig Racing entry will be anounced at a later date.
"Having Justin Haley return to Kaulig Racing for the 2021 season is truly special to me," said President of Kaulig Racing, Chris Rice. "I had my eye on Justin for a while before he came to Kaulig Racing and knew there was something special about this kid. I was able to be a part of handpicking him for the No. 11 car, and there has not been one day that I have regretted that decision. I know he will do big things in 2021 for Kaulig Racing."
The remainder of Kaulig Racing's 2021 NASCAR Xfinity Series lineup will be announced at a later date.