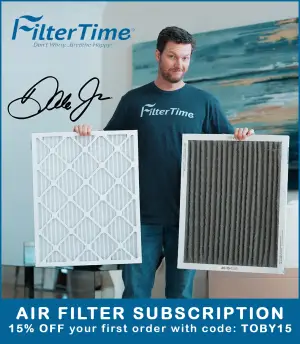 For a team that doesn't get a lot of media attention at the race track, Rick Ware Racing sure knows how to live rent-free in the minds of NASCAR fans everywhere.
In recent years, teams like Rick Ware Racing – that often find themselves in the bottom 25% of the running order in NASCAR's National Series — are often under intense condemnation from fans and industry members alike, who are irate at the speed differences between the "mid-packers" and "back markers" – as many fans choose to refer to them as.
It wouldn't be much of a reach to say that the speed difference is getting out of hand, and should immediately be addressed by NASCAR, whether it's through serious cost-cutting measures, or just raising the minimum requirements for a team in NASCAR's top-level.
In fact, over the last ten years at Auto Club Speedway, the gap between the first-place qualifier and last-place qualifier, has more than doubled, increasing from 1.7 seconds in 2010, to a troubling 3.7 seconds earlier this season
It is quite obvious that Rick Ware Racing is on the receiving end of the majority of this anger, which is evident by taking a glance at the numerous sarcastic and negative comments that litter the replies of the team's social media posts.
However, what I don't understand is, why on earth is everyone mad at a race team that has found a way to capitalize on a clearly dysfunctional ownership model, especially with all the positives that the increased presence of the team brings with it.
I personally challenge you to find a race team that has brought more sponsors into the sport this season than Rick Ware Racing. Good luck with that, because you probably can't.
Through twenty-one races in the NASCAR Cup Series this season, Rick Ware Racing has brought at least SIXTEEN companies who had never sponsored a NASCAR team before, into the sport at a primary sponsorship level, all while facing an economic downturn due to the COVID-19 pandemic. Even if those sponsors were to stay with Rick Ware Racing drivers or move to another team, that is still additional revenue for organizations within the sport.
The team's ability to find sponsors for their race cars, not only allows them to run the number of cars they do, but it also allows them to take a chance on drivers, that may not get the chance to drive in the NASCAR Cup Series otherwise.
Over the team's history, they have offered a total of sixty-nine drivers their debut in one of NASCAR's National Series, including well-known names like D.J. Kennington (NGROTS – 2010), Timmy Hill (NCS – 2012, NXS – 2011, and NGROTS – 2013) and Jeffrey Earnhardt (NGROTS – 2010), along with Robby Lyons, Spencer Boyd, Josh Bilicki, Camden Murphy, Ray Black, Jr., Shane Sieg, Clay Greenfield and Kyle Weatherman.
Cole Custer – who won a NASCAR Cup Series event at Kentucky this season — also made his NASCAR Cup Series debut for Rick Ware Racing in 2018, driving the No. 51 in a technical alliance with Stewart-Haas Racing.
When it comes to Rick Ware Racing, the bottom line is that time and time again, the team has proven they're willing to make an investment in NASCAR and motorsports all around the world. In fact, the organization announced on Thursday that they would be entering into a partnership with Dale Coyne Racing and Byrd Racing, to field an entry for James Davison in the Indianapolis 500.
Why are we so hateful towards Rick Ware Racing and what they have done for the sport? Any team that can find sixteen brand-new sponsors in a year of financial instability, and provide nearly seventy drivers with opportunities to make NASCAR National Series debuts, should be – at the very least — not hated by the majority of the fan base.
At the end of the day, Rome wasn't built in a day. Even if it looks like Rick Ware Racing isn't putting in an effort to make improvements, I can promise you that isn't the case. Even teams like Michael Waltrip Racing and Furniture Row Racing – both eventual winners in the NASCAR Cup Series — struggled hard in the first few years on exsistence.
All we can hope, is that Rick Ware Racing keeps plugging away at it, so that eventually, one day, they can compete for top-fives and maybe even victories.