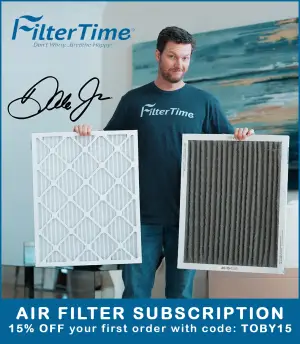 It's just about that time. The NASCAR Gander RV & Outdoors Truck Series returns to action Friday, August 7th at 6 PM ET with television coverage on FS1.
This will mark the Series' 11th race of the 2020 campaign and things are starting to really heat up since Kyle Busch finished his allotted number of Truck Series events for the season at Texas Motor Speedway a few races ago.
Four Truck Series regulars have visited victory lane this season in total, and Grant Enfinger is the only regular with multiple wins (two) so far.
There are plenty of story lines forming among the 39-truck field.
The Champ is Back
Two weeks ago at Kansas, Matt Crafton, the 2019 series champion, finally broke back into victory lane for the first time in three years. He'll be looking to record back-to-back wins for just the second time in his illustrious career.
The 44-year old will roll from fourth on the starting grid.
Austin Hill Looking For More Hardware
2020 has been an incredible season for Hattori Racing Enterprises' Austin Hill. The driver of the No. 16 Toyota Tundra is the point leader, and has finished inside the top-10 in all but one race this season. Hill, like Crafton, won two weeks ago in Kansas as he took the first half of the weekend double-header at the 1.5-mile speedway.
Hill won this race last year from the sixth starting spot, and he has drawn the fifth position on the grid for Friday's race. Can the Georgia-native score his sixth-career NGROTS win?
Moffitt Still Searching For First Win of 2020
Brett Moffitt, who has tallied an impressive 10 wins over the last two seasons in NGROTS competition, is still sitting with a goose-egg in the win column this year. While that is concerning, Moffitt is fortunate that he hasn't missed any races this year.
If you recall, Moffitt suffered two broken legs during a motocross accident in the beginning of the sport's hiatus during the Coronavirus pandemic. Fortunately, Moffitt was able to get healed in time for the restart of the 2020 season.
Moffitt had recorded finishes of fifth and second heading into last week's second race at Kansas Speedway, when he was involved in a crash with his GMS Racing teammates. However, the No. 23 car has had a lot of speed as of late, as evidenced by two Stage Wins. If Moffitt can find a little luck, he may reach victory lane.
Youngster Chandler Smith on the Pole
Chandler Smith, who recently turned 18-years old, will start from the pole in Friday's race in Kyle Busch Motorsports' No. 51 truck.
Smith has just one start in 2020, as the age limit at speedways hampered his ability to run early in the season, which resulted in a 22nd-place finish at Kentucky Speedway. However, in four starts a season ago, Smith recorded four top-10 finishes.
Although he hasn't had any practice to dial in his truck, neither has the rest of the field. If Smith can keep his foot in the gas and his truck going in the right direction, he could be a surprise winner in this race.
So, What Should We Expect?
Fast and wild action, as we are accustomed to seeing in the Truck Series. Okay, that's a given, but if last season's race at the 2-mile speedway in Brooklyn, MI is any indicator, we'll be in for an absolute bonkers race.
Last year's event had eight cautions, six for crashes. After a nine-truck melee in the closing laps, guys like Tyler Dippel, Austin Wayne Self, Bayley Currey and Ray Ciccarelli found themselves with solid top-10 finishes.
If things get hectic, we could see something similar on Friday.
Last year's race also featured 17 lead changes as Ben Rhodes, Austin Hill, Sheldon Creed and more bounced back and forth with the lead all day before Hill ultimately captured the victory.
Who Wins This Thing?
While it's been very difficult to predict things in the sport this season, due to the lack of practice and qualifying, there has been one constant all year in the Truck Series — Austin Hill. The guy just racks up great finishes week in and week out, and I don't see that being any different on Friday.
If I had to put my money on one driver to pull the win off, it would be Hill.
Pre-Race Info
Race Length: 100 Laps / 200 Miles
Stages: Stage 1 Ends Lap 20, Stage 2 Ends Lap 40, Race Ends Lap 100 (Unless overtime finish)
How to Watch/Listen: Will be televised on FS1 at 6PM ET. If you would prefer to stream the event on your mobile device, it will be available on the FOX Sports Go app. The radio broadcast will be available from MRN and Sirius XM NASCAR Radio (Channel 90).
Johnny Sauter's No. 13 truck was busted with an L1 Penalty in pre-race inspection on Friday. Sauter will lose 10 championship driver points, ThorSport Racing will lose 10 championship owner points, and his crew chief has been ejected. For more on the penalty, click the story below:
Johnny Sauter's No. 13 Team Hit With L1 Penalty in Pre-Race Inspection, Docked Points, Crew Chief Ejected