While the entry list may only show eighteen drivers entered for Saturday's Pensacola 200 Presented by Inspectra Thermal Solutions, the quality of drivers and race teams in the field for this weekend's race is incredible, featuring a number of incredibly talented short track racers, and a number of teams that are not strangers to winning races in the ARCA Menards Series.
ENTRY LIST RUNDOWN:
Derek Griffith will return to Chad Bryant Racing's No. 2 Entry at Pensacola, after searching hard for the funding to run more ARCA East Races.
Read More on Griffith:
Derek Griffith to Return to ARCA East Series at Pensacola, Despite Funding Uncertainty.
Bubba Pollard, a incredibly talented and well-known Late Model Racer around the country, will make his first ARCA Menards Series Start at Pensacola, driving the No. 17 TM Ranch / Harrisons Ford Fusion for DGR-Crosley Racing.
DGR-Crosley was in need of a driver, with Taylor Gray not eligible to run beacause of age restrictions, and Tanner Gray being otherwise committed to run in the NGROTS Series at Atlanta this weekend.
Read More on Bubba Pollard:

Bubba Pollard to Make ARCA East Debut with DGR-Crosley This Weekend at Five Flags Speedway
Stephen Nasse, will be driving the No. 09 Ford Fusion at Pensacola this weekend for Jett Motorsports. Nasse attempted the season opener at New Smyrna Speedway in the No. 09 as well, finishing in the sixth position in his first ARCA Menards Series East race in more than eight years.
Nasse is the winner of the 2019 Winchester 400 and crossed the finish line in first in the 2019 Snowball Derby, before being disqualified in post-race inspection. Nasse is a talented driver, scoring four consecutive top-ten finishes in the Winchester 400, one of the most prestigous late model races in the country.
The 25-year old from Pinellas Park, Florida is certain to be a contender on Saturday Night, battling hard with Bubba Pollard and Derek Griffith along with the entire cast of weekly characters we have in the ARCA Menards East Series.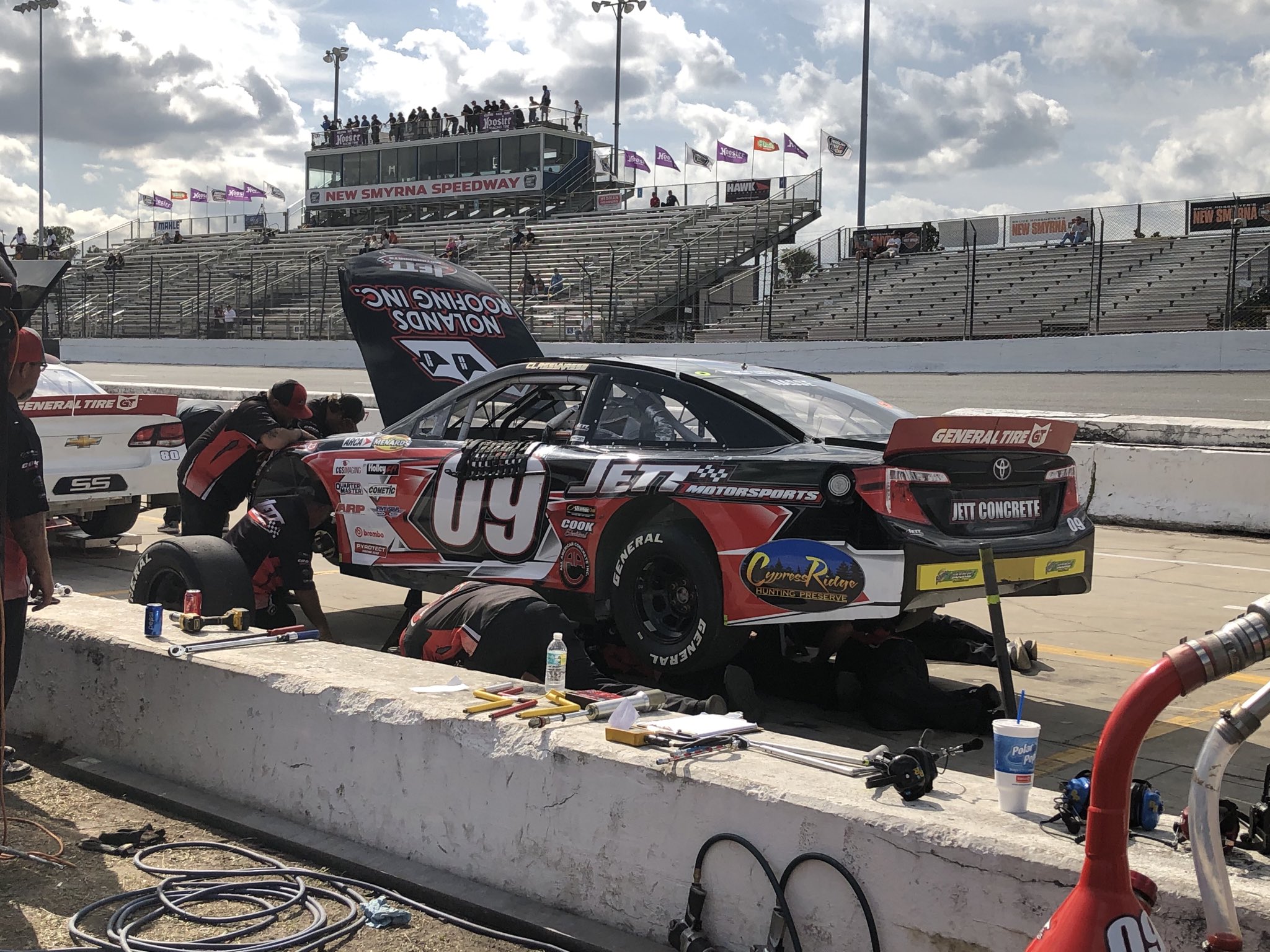 Picture: Sam Putnam on Twitter
The remaining fifteen drivers entered in the Pensacola 200 Presented by Inspectra Thermal Solutions, are guarenteed to give these three experienced late-model drivers a run for their money Saturday Night at Five Flags Speedway.
SAM MAYER comes off of a little bit of the bump in the road, after riding a hot streak to begin the 2020 ARCA Menards Series Season, winning the first two races that he entered in 2020 (ARCA East in new Smyrna & ARCA West in Las Vegas), before having an engine problem in the season-opener for the Sioux Chief Showdown. The 2019 ARCA Menards Series East Champion enters Five Flags Speedway with a lot of confidence in his ability and his equipment, and hopes to continue to assert himself as the dominant force in the ARCA East Series.
TY GIBBS comes off an amazing run at Phoenix, in the first race of the Sioux Chief Showdown, dominating the race in a incredible fashion, before having the race slip between his fingers on a one-lap shootout at the end of the race. Gibbs, the grandson of Joe Gibbs Racing owner Joe Gibbs, has scored a total of four ARCA Menards Series Wins (1 ARCA East, 1 ARCA West, 2 ARCA Menards Series) and has finished in the top-five in 16 out of his twenty ARCA Starts.
COREY HEIM although relativley inexperienced when it comes to the ARCA Menards Series, still stands a great chance of challenging for his first career ARCA Menards Series East win. Heim, driving the No. 20 for Venturini Motorsports this weekend at Pensacola, comes into the weekend seventh in series points, only ten points behind Sam Mayer. Through thirteen ARCA Menards Series races for Chad Bryant Racing in 2019, Heim scored a total of eight top-fives and twelve top-tens, including a top-five finish in his series debut at Five Flags Speedway last season.
CONNOR OKRZESIK doesn't have a ton of ARCA Menards Series experience under his belt, the 18-year old from Grand Bay, Alabama has shown some promise in the limited ARCA experiece he has. Okrzesik made two ARCA Starts in 2019, with two top-ten finishes and a best of seventh place finish in the ARCA Race at Five Flags Speedway last spring. Although Okrzesik may not be the favorite to win the race, watch for a strong run from Okrzesik on Saturday Night because he may just sneak into contention for a victory.
Other Contenders Include: Mason Diaz, Tristan Van Wieringen, Bret Holmes, Chase Cabre, Nicholas Sanchez, Giovanni Bromante, Daniel Dye, Parker Retzlaff & Max McLaughlin.
The Pensacola 200 Presented by Inspectra Thermal Solutions will take place this Saturday, March 14th at 7:00 PM/EST, and will air live on NBC Sports Gold Trackpass. Eighteen drivers are entered for the second race of the 2020 ARCA Menards Series East.