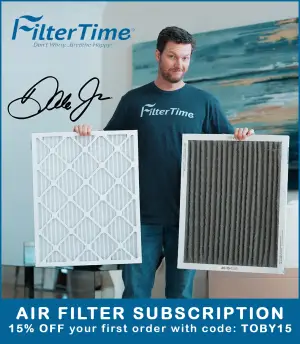 Remember when people were saying that the Ford teams would struggle after changing to a new body in 2019? Let's just say Team Penske didn't listen to the talk this off season, and instead kept their heads down and went to work. After a second-straight win, Team Penske is looking stout.
*NOTE I rank what I feel to be the top-30 drivers between the Cup, Xfinity and Truck Series each and every week. These are MY opinions.
Rank
Prev
Driver (Series)
1
2
Brad Keselowski (Cup)
Wow, Keselowski nearly pulled off back to back wins. Still, second is quite impressive.
2
5
Joey Logano
(Cup)
Nice bounce back for Logano who had a frustrating Atlanta. Now, the defending champion is locked into the Playoffs again.
3
1
Kyle Busch
(Cup)
Truck Series win, check. Xfinity Series win, check. Cup Series win, nope. But it wasn't for lack of effort. Busch was possibly the fastest car on Sunday, but a speeding penalty did him in.
4
3
Kevin Harvick
(Cup)
Harvick absolutely dominated Stage 1 to the point where it was beginning to look like the new rules package was a joke. Luckily for NASCAR, Harvick cooled off in Stages 2 and 3.
5
4
Martin Truex Jr.
(Cup)
Bad in practice. Bad in qualifying. But when the chips were on the table Truex got it done in the race with a eighth place finish.
6
8
Kurt Busch
(Cup)
Holy cow. Kurt nearly got the job done in his throwback paint scheme. When he qualified 28th I assumed he would be toast. Instead he led a bunch of laps and finished fifth.
7
6
Denny Hamlin
(Cup)
Another solid run for Hamlin with a 10th place finish. This may be his return to form season.
8
7
Kyle Larson
(Cup)
Larson came home 12th, but was never really a threat to do much on Sunday. I really thought after a strong Atlanta that he would be in the mix on Sunday.
9
9
Christopher Bell (Xfinity)
Was up in the front late until Tyler Reddick got over zealous. Still, Bell is on pace for 11 wins this season.
10
10
Erik Jones (Cup)
That Jones boy charged from the 18th starting spot to top-five in Stage 1. He cooled off after that, but a 13th-place finish wasn't a bad day.
11
13
Aric Almirola (Cup)
Don't look now but Almirola is quietly building a great follow up to his career 2018 year.
12
12
Clint Bowyer (Cup)
Bowyer was one of many that was frustrated by the new rules package in Las Vegas.
13
15
Chase Elliott
(Cup)
Las Vegas was a very underwhelming race for NASCAR's most popular driver, but he did finish top-10 at least.
14
14
Alex Bowman (Cup)
Bowman has been quick in 2019, but he is just missing a little something to be a top-10 driver each week.
15
11
Ryan Blaney (Cup)
Blaney keeps showing he is a top-five to top-10 car each week but circumstances keep knocking him out of the running each week.
16
18
Brett Moffitt (Trucks)
Moffitt finally showed signs of why he was a six-time winner and champion a year ago as he finished runner-up to Kyle Busch this weekend.
17
17
Tyler Reddick (Xfinity)
Reddick, the 2018 NXS champion, has been ultra-fast in RCR's No. 2 car this season. If he can cut the mistakes down, he could be a two-time champion.
18
21
Ricky Stenhouse Jr.
(Cup)
Stenhouse is not making many friends on the track, but he isn't there to make friends. If he keeps having solid finishes like he had in Vegas that's what is important.
19
19
William Byron (Cup)
I keep waiting for him to take the next step. Then I realize he's in some less than stellar equipment at the moment.
20
16
Justin Allgaier
(Cup)
What a bummer. Allgaier had another good run going until the motor fell apart on lap 120.
21
20
Daniel Suarez
(Cup)
After a top-10 in Atlanta, Suarez struggled to a 17th-place showing in Las Vegas.
22
22
Ross Chastain (Cup, Xfinity, Trucks)
7th in the NXS race and 10th in the Truck Series event continues to showcase why Chastain belongs on this list.
23
23
Cole Custer (Xfinity)
Custer recorded a ninth-place finish this week. However, he needs to show some more speed going forward.
24
NR
Matt Crafton (Trucks)
Matt Crafton wasn't on this list? Well, he is now! Had a totally obliterated rear end of his No. 88 truck and still finished third.
25
25
Paul Menard (Cup)
Ho hum.
26
26
Jimmie Johnson (Cup)
Alright let's go ahead and hit that panic button, folks.
27
NR
John Hunter Nemechek
(Xfinity)
JHN nearly was able to get by Kyle Busch on the final restart of the day. In the end, he came home with a solid runner-up finish.
28
28
Chris Buescher (Cup)
Buescher impressed at Atlanta, but is in danger of falling out of the rankings after a so-so Las Vegas.
29
29
Johnny Sauter (Trucks)
Sauter's truck was awful for the majority of Friday night's race. Somehow he ended up finishing top-10 though.
30
NR
Ryan Sieg
(Xfinity)
Has there been a more fun story in the NXS this season than Sieg? He finished fourth at Daytona, 11th at Atlanta and sixth this week in Las Vegas. This family operation is getting it done!
Dropped out: Austin Hill (24), Ryan Preece (27), Jeffrey Earnhardt (30)
Knocking on the door:  Noah Gragson (Xfinity), Harrison Burton (Trucks), Grant Enfinger (Trucks)
---
Did you enjoy this story? If so, you can 
. Patrons get the opportunity to help this website grow as well as help mold the direction of what I cover in the future. You also will receive an awesome T-Shirt, a decal and you'll be invited to an exclusive racing chat room on Discord.