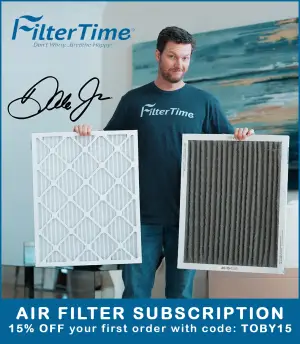 Chandler Smith, who signed with Kaulig Racing for his rookie season in the NASCAR Xfinity Series, will also foray into the NASCAR Cup Series in 2023, starting with the season-opening Daytona 500.
Quick Tie, a proprietary, patented hold-down system for high wind and seismic construction, will see its colors adorn a third entry for Kaulig Racing, No. 13, which will feature the Talking Rock, Georgia driver in five NASCAR Cup Series events.
"This is a dream come true for me," Smith said. "As a kid, you always have the goal of one-day racing in the Cup Series. I'm hoping that comes true in this year's Daytona 500. I'm thankful for Harvel Crumley and Quick Tie for the opportunity to run in multiple Cup races this year, and I'm beyond appreciative of the belief that Matt Kaulig and Chris Rice have in me."
Aside from "The Great American Race", Smith will return to the NASCAR Cup Series at Richmond Raceway, North Wilkesboro Speedway (All-Star), Talladega Superspeedway (October), and the season-finale at Phoenix Raceway.
The company, which makes its first appearance as a primary sponsor in NASCAR, will also serve as a primary sponsor for Chandler Smith's NASCAR Xfinity Series entry, No. 16, in multiple events.
"We're extremely excited about continuing our sponsorship of Chandler," Quick Tie CEO Harvel Crumley said. "We started sponsoring him when he was eight years old. It has been a great experience over the years seeing him grow and become a very talented driver. Now, we look forward to continuing that experience as he moves up to NASCAR's Xfinity and Cup Series with Kaulig Racing. All of us here at Quick Tie look forward to being supportive and enthusiastic partners with Chandler, Matt Kaulig, Chris Rice, and the whole Kaulig organization. We consider it a great privilege to be part of this team for the 2023 racing season."
Last season, Smith finished third in NASCAR Craftsman Truck Series point standings, after amassing three victories, nine top-five, and 16 top-10 finishes for Kyle Busch Motorsports. Smith also got his feet wet in the Xfinity Series, running three races for Sam Hunt Racing, finishing sixth at Homestead.
"Chris and I knew who we had in Chandler when we brought him into our team fold at the end of last year," Kaulig Racing Owner Matt Kaulig said. "He made such a splash on the Craftsman Truck Series in the last couple of years. We have the utmost confidence in his full-time Xfinity Series run this year, and with Quick Tie, we think he will turn some heads in his Cup Series starts."
Piloting an open entry, Smith will need to fight hard to find himself in the field for the 2023 Daytona 500, competing against the likes of Jimmie Johnson, Austin Hill, Zane Smith, and Travis Pastrana for four spots in the field.