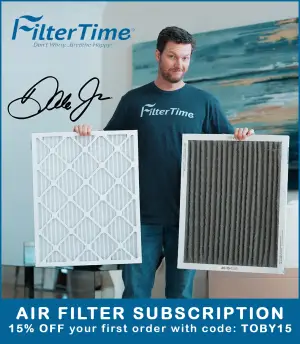 Charge Me will continue to support Chandler Smith as he graduates to the NASCAR Xfinity Series in 2023, announcing on Monday that the company will partner with Kaulig Racing for multiple races of primary sponsorship on board the No. 16 Chevrolet Camaro.
The company's support of Smith, which began in the NASCAR Craftsman Truck Series last season, will include the addition of associate partners Spend me, Quick Tie, and others for multiple events during the Talking Rock, Georgia-native's rookie season.
"We at Charge Me and Spend Me could not be more excited to take on this journey with an amazing driver and young man again," says Charge Me Executive Vice President Bill Marr. "As this is our second year in NASCAR, moving up to Xfinity and seeing Chandler compete on this stage with a race team like Kaulig is an honor. We are proud to be a NASCAR family member and support this amazing sport. A huge thank you to Matt Kaulig and Chris Rice to welcome us and support us on this 2023 championship path."
Charge Me was founded on the notion that the electric vehical (EV) revolution will require immense infrastructure changes to all levels. To encourage the transition to a clean energy future, the company has launched a diverse product range of EV charging solutions.
Developing the first-of-its-kind, off-grid, multi-use portable charging systems for both EV roadside assistance, as well as a stationary power generator, Charge Me uses clean fuels like propane and natural gas to develop solutions to help alleviate the grid infrastructure.
"I can't thank Bill and Charge Me enough for believing in me and my growth in NASCAR," says Smith. "We've had quite a bit of success together, and I feel so blessed to have the support of an amazing partner heading into 2023 at Kaulig Racing."
While the company primarily supported Smith in his NASCAR Truck Series effort last season, the brand also served as primary partner of the 20-year-old's three-race tenure in the NASCAR Xfinity Series, where he scored a career-high sixth at Homestead.
"We are extremely excited to have the opportunity to work with Charge Me this season," says Chris Rice, president of Kaulig Racing. "We see so much potential in Chandler and hope that we are able to see success during the upcoming season with Charge Me as a driving force."
The No. 16 Charge Me Chevrolet Camaro will debut in the 2023 Production Alliance Group 300 at Auto Club Speedway, which will take place on Saturday, February 25th. Smith will compete with several other drivers for Rookie of The Year honors.