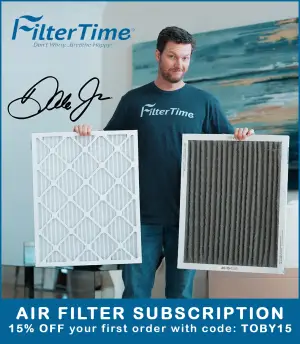 Front Row Motorsports, which fields entries in the NASCAR Cup Series and NASCAR Craftsman Truck Series, has partnered with legendary heavy metal band Metallica and their Foundation, All Within My Hands, in support of the band's Helping Hands Concert.
The concert and auction, which will take place in Los Angeles on December 16, will benefit the Foundation, and be streamed live on Paramount+ and hosted by late-night talk show host Jimmy Kimmel.
As part of the auction, Front Row Motorsports has offered up a VIP race experience for the 2023 NASCAR Cup Series season, which will allow fans to get an inside look at the organization, as well as a meet-and-greet, and photos with the team's drivers.
FANS! We've teamed up with @Metallica and the @AWMHFoundation to benefit those in need leading into the Helping Hands live concert Dec. 16 in LA. You can bid on a VIP Experience with @Mc_Driver, @zanesmith77, and @ToddGilliland_ in 2023. Bid here: https://t.co/onBR6P1Zu9

— Front Row Motorsports (@Team_FRM) December 9, 2022
With 11 days remaining in the auction – as of December 9 at 11:30 am – the current bid for the NASCAR VIP experience is $3,550, raising just as much, or more than VIP experiences with the LA Rams and San Diego Chargers.
According to the auction website (BID HERE), the VIP NASCAR Package includes:
Round-trip coach airfare travel within the continental United States.
Hotel accommodation for three (3) nights, along with a rental car for transportation.
Two (2) VIP passes to the NASCAR Cup Series garage.
Grandstand tickets for the NASCAR Cup Series, NASCAR Xfinity Series, and NASCAR Craftsman Truck Series events.
On-site concierge at the track.
Tour of Front Row Motorsports transportation haulers.
Meet and greet with Front Row Motorsports drivers Michael McDowell, Todd Gilliland, and Zane Smith.

NOTE: Zane Smith is only available on weekends when the NASCAR Craftsman Truck Series are at the same facility as the NASCAR Cup Series.

A close-up view of other stars of the NASCAR Cup Series as they walk to the driver's meeting or driver introductions.
Pre-race photo opportunity on pit road with either Michael McDowell or Todd Gilliland at their car, right before the green flag.
Experiencing a NASCAR pitstop at a unique perspective: sitting on top of the pit box for a portion of the race right behind the Race Engineer and Crew Chief.
A Front Row Motorsports swag bag.
Note: If you choose a race at Charlotte, Darlington, Martinsville, or Bristol, Front Row Motorsports will fly and accommodate you and your guest into Charlotte a day early to get a VIP shop tour in Mooresville, North Carolina, and a tour of the NASCAR Hall of Fame in uptown Charlotte.