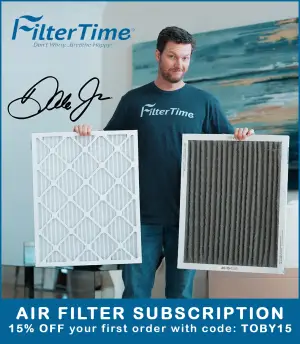 On Friday, FOX Sports announced that they will broadcast all 20 ARCA Menards Series races throughout the season.
In an agreement that stretches through 2024, each ARCA Menards Series event will be aired live on either FOX Sports 1 (FS1) or FOX Sports 2 (FS2). All of the events will also be available on the FOX Sports App.
"ARCA has a well-documented history of building long-term relationships with partners that add value to all stakeholders involved with the series. This is evidenced by our network television relationship with FOX Sports spanning more than 25 years," said ARCA President Ron Drager. "Together, we deliver high-quality motorsports content that reaches millions of homes, directly benefitting our fans, partners, race teams, and tracks."
FS1 will carry 14 of the 20 races on the ARCA Menards Series schedule in 2023, with the other six races – Phoenix, Elko, Iowa, DuQuoin, Salem, and Toledo – being shown on FOX Sports 2.
In addition to full-season coverage on the FOX family of networks, half of the schedule – 10 of the 20 races – will be shown simultaneously on FloRacing.
"It's amazing that 2023 will be FOX Sports' 27th season with the ARCA Menards Series and Ron Drager and his team," said Frank Wilson, VP of FOX Sports. "The ARCA season-opener in Daytona has always been a tentpole in our Speedweeks coverage, and now that we will carry the entire ARCA season, we look forward to continuing to deliver even more high-quality stock car racing all season long."
---
2023 ARCA Menards Series Broadcast Schedule (All Times ET):
| Race # | Date | Track | Network | Time |
| --- | --- | --- | --- | --- |
| 1 | Saturday, February 18 | Daytona | FS1 | 1:30pm |
| 2 | Friday, March 10 | Phoenix | FS2 | 8:00pm |
| 3 | Saturday, April 22 | Talladega | FS1 | 12:30pm |
| 4 | Saturday, May 6 | Kansas | FS1 | 2:00pm |
| 5 | Friday, May 26 | Charlotte | FS1 | 6:00pm |
| 6 | Saturday, June 17 | Berlin | FS1 / FloRacing | 8:00pm |
| 7 | Saturday, June 24 | Elko | FS2 / FloRacing | 9:00pm |
| 8 | Friday, July 7 | Mid-Ohio | FS1 / FloRacing | 6:00pm |
| 9 | Saturday, July 15 | Iowa | FS2 / FloRacing | 8:00pm |
| 10 | Friday, July 21 | Pocono | FS1 / FloRacing | 6:00pm |
| 11 | Friday, August 4 | Michigan | FS1 / FloRacing | 6:00pm |
| 12 | Friday, August 11 | IRP | FS1 | 6:00pm |
| 13 | Friday, August 18 | Watkins Glen | FS1 | 2:00pm |
| 14 | Sunday, August 20 | Springfield | FS1 / FloRacing | 2:00pm |
| 15 | Sunday, August 27 | Milwaukee | FS1 | 1:00pm |
| 16 | Sunday, September 3 | DuQuoin | FS2 / FloRacing | 9:00pm |
| 17 | Friday, September 8 | Kansas | FS1 | 6:00pm |
| 18 | Thursday, September 14 | Bristol | FS1 | 6:00pm |
| 19 | Saturday, September 30 | Salem | FS2 / FloRacing | 4:00pm |
| 20 | Saturday, October 7 | Toledo | FS2 / FloRacing | 4:00pm |