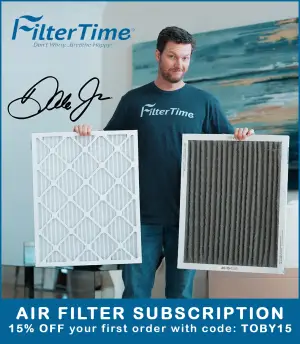 After a tough rookie season in the NASCAR Craftsman Truck Series, Dean Thompson has found a brand-new home for 2023, in the form of the newly-rebranded TRICON Garage.
"We're really excited to welcome Dean into the TRICON program for 2023," said team Partner David Gilliland. "Our goal is to develop future stars of the sport, and he has all the intangibles of a driver with a long NASCAR career ahead of him. He shares our commitment to growing this team into a premier Truck Series organization, and we can't wait to hit the track with him at Daytona."
The team, which gained a new name in the offseason and will have a new manufacturer — Toyota — in 2023, things are beginning to take shape for the 2023 season.
Thompson believes this is the start of him taking that next step in his racing career.
"I am thrilled to start the next chapter of my career with TRICON Garage and Toyota Racing Development," said Thompson in a TRICON Garage team release. "The team and manufacturer have quickly made a statement in the Truck Series as striving to be the best of the best. I'm ready to take on the challenge and live up to the expectations of being a driver for TRICON."
Thompson, who finished the 2022 NASCAR Camping World Truck Series season 23rd in points for Niece Motorsports, will pilot a fourth full-time entry for the organization, which will carry the No. 5.
The 21-year-old was able to pull together a total of four top-15 finishes throughout his 23-race tenure with Niece Motorsports, including a career-best finish of 11th at Las Vegas Motor Speedway in March.
A native of Anaheim, California, Thompson will join full-time teammates Tanner Gray, Taylor Gray, and Corey Heim in battling for the 2023 NASCAR Craftsman Truck Series championship, as the formerly-known David Gilliland Racing team regroups for 2023.
Upon the announcement of the team's rebrand, TRICON Garage revealed the team would be running a fourth – now fifth – part-time truck, No. 1, with a rotation of drivers behind the wheel. No drivers have been announced for said entry.