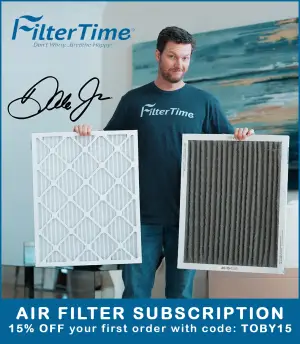 On Friday, Alpha Prime Racing and Sage Karam announced that they will once again be partnering for the 2023 NASCAR Xfinity Series season. Following the official announcement, Karam took time out to talk to TobyChristie.com about his new deal in an exclusive interview, where he revealed how the agreement came together and how he decided to make the transition to NASCAR from IndyCar.
Karam also adds a few details about the new deal with Alpha Prime that were not made available in the press release.
Toby Christie: Sage Karam, thanks for taking time out. You're officially back with Alpha Prime Racing for the 2023 season, how did the deal come to be?
Sage Karam: Obviously 2022 was a fun year for me. I was able to go to a lot of race tracks I'd never been to. You know different types of racing like superspeedways and mile-and-a-half stuff like that. That was a lot of fun and checked a lot of boxes off. I think through the year I grew as a driver and the team grew as a team and we started gelling really, really nice. 
When I was looking at what was available in options for next year, I have a lot of respect for Tommy Joe Martins and him rolling the dice and giving me the opportunity to get in a car for this year, let alone for more races next year. You know, and that means a lot to me. And that goes a long way with me.
In my opinion, it's somewhere where I definitely want it to be. It's a very family-oriented atmosphere, it feels like. That's what I really like about the place and that's why when I was racing IndyCar in Indy 500 for John Reinbold for so long, it was like the same kind of feeling. That family feeling. A small team and I really enjoyed that so.
[Alpha Prime]'s progression throughout the season, I think some of the results at the end of the season, they were a really solid contender. Had a fast car, just had some misfortune in a few of those races, and probably could have gotten a couple more top 10s there for their organization. So I think they have a really good program going right now. 
TC: You mentioned the family feel of Alpha Prime, and their recent performance, is what sold you. But did you consider other options for 2023?
SK: Yeah, there were definitely other options available, but I think just knowing the team and the relationship I have with them now and I think they worked pretty hard to try and get me back in the organization for 2023. And I wanted to be back for 2023. I think when we had both parties just kind of like working as one. It made the deal happen pretty quickly. It made the deal come together pretty quickly as opposed to maybe some other deals that were being talked about and you know?
TC: Definitely. So, how many races are we looking at on your schedule right now?
SK: Yeah so. I think as of right now, 17 seems to be a solid number to start. But I think we would like to get it to like 20 to 21-22 races. Somewhere in there. That'll be the goal, but I think 17 races is for sure. 
TC: If the funding comes along, could you potentially run the full-time schedule in 2023? 
SK: I think so. The only issue with my deal is that I believe my first race is in Atlanta. So, I would have to find funding before that and there would have to be some strings pulled and stuff to get me in a car for those first three or four races in order to stay points eligible.
TC: Certainly. That makes sense. Now, I saw your dad posted a picture of your signature on the contract on his Twitter, and he captioned it with, "This is what happens when REAL opportunity recognizes and appreciates REAL talent." Was that a jab at somebody who maybe passed on you or something like that over the course of your career?
SK: No. Just racing in general has been very money-oriented, and it's not like most sports today where if you're the best player on the field, you're going to get the ball or whatever, you know? It's been tough obviously. I mean especially for my family. I don't come from big money or anything like that.
I mean my Dad is a school teacher, and my mother is a nurse. I think a lot of the people that do race might have a better starting point where they come from. So, It just goes really, really far with me and my family when a team owner gives that option because I feel like they are sacrificing probably a little bit to put me in a car, financially. They could probably bring somebody that's going to bring quite a bit more money than me, but it's more or less like they put me in the car because they think I'm going to do a good job and you know, that's really cool.
TC: You won the Indy Lights Championship in 2013 and worked into a part-time role in the IndyCar Series and the buzz was about how you were one of the potential up-and-coming stars in that in that series for a little bit and then kind of things didn't quite work out.
How did the transition to NASCAR happen? Did you always have NASCAR kind in the back of your head as an option or something you always wanted to try to do? Or was it just kind of one of those things where you chose it for survival? 
SK: That's a good question. Obviously, I grew up in Nazareth, Pennsylvania, home to the Andrettis, and in Nazareth It was all about IndyCar racing. I grew up kind of chasing that dream and wanting to go race the Indy 500, wanting to go win the Indy 500, and wanting to be an IndyCar champion because that's all I was ever around.
As I wasn't able to really get full-time in IndyCar, other opportunities came about whether it was sports car racing or Xfinity racing, or rally racing. Whatever it was, I got more opportunities to drive different cars. And you know, I kind of found a different appreciation and different love for different types of motorsport. And that's just kind of how it came about with the whole NASCAR world.
To be quite honest, I never really had a burning desire to be full-time in anything else other than IndyCar when I was growing up, coming up through the ranks. You know when I got to IndyCar, I think I've always had that kind of in the back of my head, "Oh, I'd love to go do a NASCAR road course race sometime," you know. I just kind of had that on the bucket list to try maybe one day and then that's when I finished 7th at the Indy 500 and I got the call from Jordan Anderson to drive the 31 at any road course and that was only supposed to be a one-race deal. But I ended up liking it so much and enjoying the racing and joining the environment and the people over there that you know that one race turned into like four or five.
I'm learning. Every time I go to. The track and it's been a pleasant surprise in my career of how much I'm actually enjoying it. 
TC: I know a lot of people always talk about the history of drivers and how they made that switch. I know you had NASCAR as a bucket list item, but weren't actively seeking a ride. How did Jordan Anderson reach out to you guys? Or how did that conversation start? 
SK: Definitely wasn't me going out and talking to people because I didn't really know anybody over in NASCAR. It's two completely different worlds, so I didn't even know who to contact to talk about getting a ride.
But I did make it a known thing that I wanted to go try an Xfinity race or something. Or a truck race in my camp and that trickled down to one of my sponsors, Rich Mar florist, who lives I think like 5-10 minutes from my house. They have been around in racing and especially the stock car world of racing with sponsorship for quite a long time now.
When he kind of got the news that I wanted to go try that he got me in touch with Rolando Arroyo at Shelby Park Marketing and Rolando kind of knew of an opportunity that Jordan might have had, and that's what kind of got the talks started. 
TC: That's incredible. Now, in the time you've decided to move to NASCAR, we've had less practice, and qualifying and race weekends are more condensed now. What is that like making that transition in those circumstances? 
SK: I really. Love that we have a little bit of practice, even just it being a little bit. I think it's so good for people that are like me. That hasn't had the opportunity to race that car there ever to see the track and also just rookies in general. You know to be able to get that opportunity to get on track before qualifying in the race, I think it's huge.
But you know, I think what I also found was that the hardest thing for me this year was qualifying. I can go out and I could practice and I could feel pretty good in practice. But for some reason in qualifying it just — I would always not really understand how much grip I was going to have for that one lap.
TC: That is interesting. But I'm sure it helps your confidence seeing how well Stefan Parsons performed in the back half of the year for Alpha Prime, especially when he had consecutive weeks behind the wheel.
SK: You're right. Like I said earlier, that was kind of like what I was alluding to when I said towards the end of the year some of the results they were running. You know Stefan was running super well.
I didn't really know many people before this year in the NASCAR world. I got to meet Stefan this year and got to see him drive and how he goes about his business and he's just one of those guys who just gets after it. And you know, in qualifying especially, that's like what you gotta do, and he's really, really good at that. You know, I think he's definitely somebody I try and learn off of and learn as much as I can and he has a lot of experience in a lot of different cars.
But I think some of those results towards the end of the season made the decision to come to Alpha Prime quite easy. 
TC: Definitely, definitely, and now obviously, you mentioned the dream is still to win the Indy 500 someday. Looking at your schedule. You run Atlanta in March, COTA in March and then you have a layoff until Portland and June. Is that by design? 
SK: Actually no. It's not. I think originally we were trying to get full-time and if I were to get full-time, the plan was to do whatever I could to still run Indy, even being full-time.
I don't know what I'd have to do, but you know the parade for the Indy 500 is that day that we would be racing and I would have to figure out something and be flying around, you know? But that was going to be the original plan, so there was always that plan to try and still do Indy because of my goal. I do want to get to 10 Indy 500s. But no I think that's just kind of how the schedule kind of panned out with who I'm splitting the cars with and stuff like that. Which you know is cool, you know. I think it's it's good, you know.
You know if an opportunity in May does come about now, and I am free and available, You know I'll be ready to go. And ready to jump in. And that's cool. You know it gives me that flexibility to go do that still, but I know my focus is 100% on the NASCAR weekends that I have signed. I want to be able to get as many races as I can possible this year. 
TC: Absolutely. Your schedule, as it stands, is 17 races. What would you consider a success at the end of those 17 races? 
SK: Yeah, I don't know. I haven't really thought too much about it yet. But I feel like this year I really kind of checked some goals off the list. Like, I had a top 10 or top five. You know, kinds of things that I didn't think were really that possible early on, but we did those. So, I think for me, 2023 is going to be more of just a consistency year.
Instead of saying I want to get a top three or I want to get a race win or something, I think for me, it's more or less like for these 17 races I want to have a legitimate shot at finishing inside the top 15 or top 10 for every single one of those races and be a contender and someone that people are talking about at the end of every race for a good reason.
I think that's my goal.
TC: No doubt, and there are quite a few tracks that you haven't been to yet. Of the ones you haven't, how are you preparing for those races and which one are you most excited about? 
SK: That's a good question. I would say the tracks that I haven't been to, how I'll prepare for them is going to be a lot of YouTube and a lot of iRacing to be honest with you. That is literally all I can really do and obviously, just texting and calling people that do have experience at them and just anything that they can offer me.
But as far as what I'm excited to go do, I would say in looking at the schedule that I think the Chicago Street race is going to be really, really cool just because being downtown Chicago on the street like that's something pretty new for NASCAR. But I think it's something that I'm comfortable with. because I've done street races with IndyCar and all that so I know that kind of vibe and scene, but it's a completely new track for me. I'd say that's probably the one I'm looking forward to the most on the road course side.
It's probably Darlington on the Oval side. I don't know if I'm looking forward to it as much as Chicago. Or if I'm looking forward to it for good reasons. I think that's probably going to be my most challenging time just because I remember watching that race this year and just how those guys were driving the cars around there was pretty crazy, so it looked like you had to really be on it and a lot of trust and experience with the car to be fast around there.
I'll be looking forward to that one to check it off the box to say I've done it, I just don't know if I'm looking forward to it because I'm like actually excited to go do it. But it'll be good. It'll be fun, and you know I think Alpha Prime guys were pretty good there last year, so I'll be looking forward to it. And I hope I get like a throwback paint scheme that weekend.
TC: That's cool, who would you want to throwback too? 
SK: I don't know. CRC sponsors me quite a bit for a lot of the races I do, so I'd love to do a throwback CRC scheme of their old Richard Childress scheme. I would love to do that. I think that would be a really, really cool car, but we'll see. I mean, that's just me throwing that out there. I don't know. 
TC: Last but not least, who does Alpha Prime have you set to work with crew chief-wise, and maybe who is going to be serving as your spotter this year? 
SK: Yeah, that's all still up in the air. I don't have big actual answers for that yet. They're still working on that. I think they know who they want and it's just a matter of trying to make that happen. We will see. But you know, if it's the same people that I worked with last year, great. If it's new people, great. I'm still figuring out a lot of things in the stock car world and meeting a bunch of people. I'm open to really anything.
TC: Sage, we hope Darlington ends up treating you well in 2023. Thank you so much for the talk. I believe I've taken up enough of your time today.
SK: No, thank you for talking to me. If you're around at a race, let me know and we'll chat again.