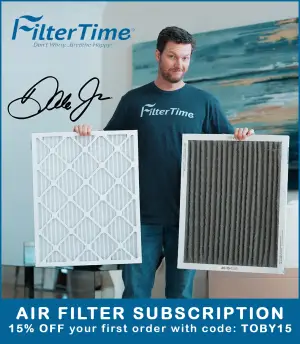 Michael Atwell, who is on a quest for his second victory in the Bill Bigley Sr. Memorial 128 at 4-17 Southern Speedway, got Saturday evening started the right way by collecting the $3,500 bonus check for turning the quickest lap in qualifying for the event.
While Atwell turned the quickest lap at 14.458 seconds (93.374 mph), he will not start from the top spot as the starting lineup will feature an invert (number of cars to be determined) before the green flag.
With the $3,500 qualifying bonus paid out, the drivers will now battle for the remaining $26,500 winner's purse in the main event.
Michael Goddard was just 0.035 seconds behind Atwell as he turned the second-fastest lap in qualifying. Then Ty Majeski, the 2022 NASCAR Camping World Truck Series Championship 4 contender, was third.
Majeski paced practice earlier in the day on Saturday.
Albert Francis and Nick Neri rounded out the top-five qualifiers.
Derek Kraus, another NASCAR Truck Series competitor, scored the eight-fastest lap of the session and is locked into Saturday's Main Event.
Chad Chastain, the younger brother of 2022 NASCAR Cup Series Championship 4 contender Ross Chastain, will need to race his way into the Main Event from the B-Mains.
Chastain was 27th in the qualifying session, where the top 20 secured their place in the big show.
The top-three finishers from each of the two 20-lap B-Mains will advance to the Main Event, while the drivers that fail to make the big show will compete in a 50-lap event before the Main Event.
Here are the full results from the Bill Bigley Sr. Memorial 128 qualifying session:
| Pos | No. | Driver | Laptime | Diff | Speed | Best Lap | Laps |
| --- | --- | --- | --- | --- | --- | --- | --- |
| 1 | 55 | Michael Atwell | 14.458 | -- | 93.374 | 3 | 5 |
| 2 | 37 | Michael Goddard | 14.493 | 0.035 | 93.148 | 3 | 5 |
| 3 | 91 | Ty Majeski | 14.520 | 0.062 | 92.975 | 4 | 5 |
| 4 | 5 | Albert Francis | 14.530 | 0.072 | 92.911 | 3 | 5 |
| 5 | 17 | Nick Neri | 14.553 | 0.095 | 92.764 | 3 | 5 |
| 6 | 15 | Gabe Sommers | 14.575 | 0.117 | 92.624 | 5 | 5 |
| 7 | 30 | Jesse Dutilly | 14.599 | 0.141 | 92.472 | 3 | 6 |
| 8 | 9 | Derek Kraus | 14.630 | 0.172 | 92.276 | 4 | 6 |
| 9 | 10 | George Gorham Jr. | 14.642 | 0.184 | 92.201 | 5 | 5 |
| 10 | 67 | Colin Allman | 14.655 | 0.197 | 92.119 | 3 | 5 |
| 11 | 2 | Michael Bilderback | 14.659 | 0.201 | 92.094 | 4 | 5 |
| 12 | 20 | Anthony Sergi | 14.662 | 0.204 | 92.075 | 2 | 5 |
| 13 | 69 | Michael Hinde | 14.672 | 0.214 | 92.012 | 2 | 5 |
| 14 | 14 | Austin Nason | 14.679 | 0.221 | 91.968 | 5 | 5 |
| 15 | 28 | Dylan Bigley | 14.687 | 0.229 | 91.918 | 3 | 5 |
| 16 | 33 | Daniel Webster | 14.695 | 0.237 | 91.868 | 3 | 5 |
| 17 | 4 | Scotty Tomasik | 14.730 | 0.272 | 91.650 | 4 | 5 |
| 18 | 59 | Dustin Dunn | 14.746 | 0.288 | 91.550 | 4 | 5 |
| 19 | 58c | Rich Clouser | 14.746 | 0.288 | 91.550 | 5 | 5 |
| 20 | 27 | Cody Krucker | 14.761 | 0.303 | 91.457 | 4 | 5 |
| 21 | 99 | Cody Martell | 14.785 | 0.327 | 91.309 | 5 | 5 |
| 22 | 1 | Nick Sweet | 14.832 | 0.374 | 91.019 | 4 | 5 |
| 23 | 74 | Johnny Kay | 14.846 | 0.388 | 90.934 | 3 | 5 |
| 24 | 62 | Corey Crisafulli | 14.866 | 0.408 | 90.811 | 4 | 5 |
| 25 | 13 | Granger Perra | 14.918 | 0.460 | 90.495 | 4 | 5 |
| 26 | 94 | Keith Roggen | 14.921 | 0.463 | 90.477 | 3 | 5 |
| 27 | 72 | Chad Chastain | 14.955 | 0.497 | 90.271 | 5 | 5 |
| 28 | 47x | Keith Zavrel | 15.026 | 0.568 | 89.844 | 4 | 5 |
| 29 | 0x | Ryan Walters | 15.031 | 0.573 | 89.814 | 5 | 5 |
| 30 | 28R | Chad Rutherford | 15.051 | 0.593 | 89.695 | 2 | 5 |
| 31 | 78 | Cody Coffman | 15.096 | 0.638 | 89.428 | 4 | 5 |
| 32 | 96 | John Nutley | 15.102 | 0.644 | 89.392 | 5 | 5 |
| 33 | 15L | Sean LeMaster | 15.107 | 0.649 | 89.363 | 5 | 5 |
| 34 | 11 | David Weaver | 15.211 | 0.753 | 88.752 | 3 | 5 |
| 35 | 58 | John Coffman | 15.246 | 0.788 | 88.548 | 6 | 6 |
| 36 | 82 | Chris McIntyre | 15.496 | 1.038 | 87.119 | 5 | 6 |