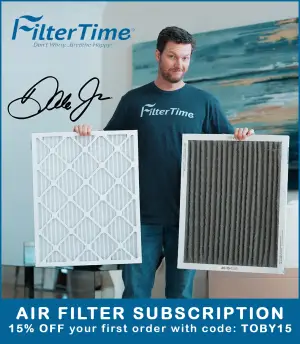 CMR Construction & Roofing will extend its relationship with Ryan Sieg and RSS Racing for the 2023 NASCAR Xfinity Series season, the family-run organization confirmed via social media on Friday.
The company, which made its first appearance on board Sieg's No. 39 entry at Texas in 2019, has served as a full-season sponsor of RSS Racing's flagship entry for the last three seasons. In that time, the Tucker, Georgia native has produced stellar results.
Currently sitting 12th in NASCAR Xfinity Series point standings, Sieg is only 16 points above the cutline for the series' seven-race post-season, which will begin in a couple of weeks time at Texas Motor Speedway.
Since landing a full-season sponsorship from CMR Roofing, Sieg has been on a career stretch, posting 10 top-five and 27 top-10 results, accompanied by one top-10 finish in NASCAR Xfinity Series points.
Despite a decade-long tenure in the Xfinity Series, Sieg is still looking for that elusive first career win, having scored a pair of second-place results, as well as seven finishes inside the top three over the course of 292 starts.
News: CMR Construction & Roofing will return as a full season sponsor again in 2023 with RSS Racing. We are so thankful for their loyal support over the last few years. Now we set focus on making the 2022 XFINITY playoffs with our CMR Ford Mustang. pic.twitter.com/ToaGOtdiLe

— Ryan Sieg Racing (@RyanSiegRacing) September 9, 2022
With the team's major sponsorship extension out of the way, Sieg can now focus his efforts on defending his margin over a hard-charging Sheldon Creed as the 35-year-old looks for his third Playoff berth.