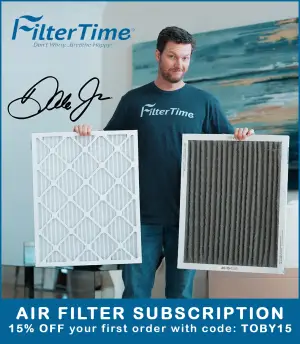 Denny Hamlin was set for his yearly NASCAR Xfinity Series start at Darlington Raceway in this weekend's Sport Clips Haircuts VFW Help a Hero 200, but he will no longer compete.
According to a press release from Joe Gibbs Racing, Hamlin, who is banged up following a hard crash in Sunday's NASCAR Cup Series Coke Zero Sugar 400 at Daytona International Speedway, felt the right thing to do was sit out the NASCAR Xfinity Series event in order to be ready for this weekend's NASCAR Cup Series Playoff opener at Darlington.
"I have had some soreness in my neck, back, and hips from the wreck on Sunday," said Hamlin. "I feel like the right thing for me to do is to sit out the Xfinity Series race and put 100 percent of my focus on getting ready for this weekend's Cup Series playoff race."
Hamlin was one of the 18 drivers involved in a massive crash on lap 139, due to the track being slick with rain pounding the track surface in Turn 1. Following a trip to the infield care center, Hamlin stated that he suffered a hard hit and that his body hurt all over.
"No, just my whole body. Literally my jaw hurts," Hamlin said. "I feel like my is one of those boxers that gets their entire face demolished. But that was certainly the first real big one I've had in this car. Everything they've been telling us — all the other drivers — it's legit."
Hamlin is the sixth seed in the 2022 NASCAR Cup Series Playoffs and he has scored two victories this season. Darlington Raceway is one of Hamlin's best tracks statistically.
Christopher Bell will hop into the No. 18 Sport Clips Toyota Supra in place of Hamlin in the NASCAR Xfinity Series event this weekend.