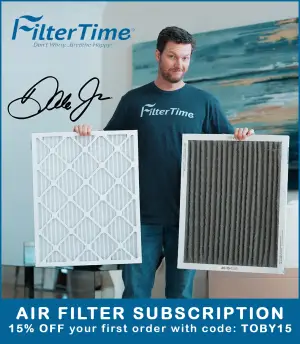 After a very public split from Brandonbilt Motorsports, Larry's Hard Lemonade has reached an agreement to return to as the primary sponsor of the No. 68 Chevrolet Camaro, which will be driven by Brandon Brown, in the NASCAR Xfinity Series race at Daytona International Speedway this weekend.
Not only will Larry's Hard Lemonade return, but the alcoholic beverage company is bringing back a familiar look, the paint scheme that was on Brown's car when he scored his first-career NASCAR Xfinity Series victory at Talladega last fall.
While Brown's win at Talladega was supposed to be the launching pad for his racing career, an error by NBC Sports' Kelli Stavast misunderstanding a chant from the crowd set off a chain of circumstances, which made Brown unmarketable to new sponsorship.
While desperation moves made within Brandonbilt Motorsports in the hopes of filling the sponsorship gaps ultimately pushed out Larry's Hard Lemonade, those desperation moves backfired and Brown has been put in the position of sitting out races on his family's race team. Vic Reynolds, the owner of Larry's Hard Lemonade set the record straight in a press release that the problem that led to him pulling sponsorship of the No. 68 car wasn't with Brown himself, but rather with the people making the desperation moves.
"Many believe that Larry's Hard Lemonade withdrew its sponsorship of Brandon Brown because of a disagreement between Brandon and myself, however this is something that I would like to address as false. Shortly after our Talladega win, there were a handful of new team affiliates who I felt were influencing some of the team's decision making in ways that I did not agree with — and for that reason alone, is what ultimately led to the decision for Larry's Hard Lemonade to withdraw its sponsorship," Reynolds said.
Seeing that his longtime friend Brown would be stepping out of his family's No. 68 car to drive less competitive equipment in an effort to keep his full-time status in the NASCAR Xfinity Series alive, prompted Reynolds to take action.
"I recently became aware of the impact that our sponsorship termination has had on Brandon after reading an article which stated that he would be out of the No. 68 for most of the remaining 2022 NASCAR Xfinity Series races, due to a lack of sponsorship funding, which stemmed from speculation about Brandon's character," Reynolds explained. "This broke my heart to read as I know Brandon to be a talented race car driver and a great human being, whose character has been put into question over previous decisions that were out of his control."
For Brown, he's just excited to be partnered with Larry's Hard Lemonade again and he's ready to go rekindle the magic the duo shared at Talladega Superspeedway last fall — he'll even have the race-winning car back under him.
"I can't wait to get back to Daytona (International Speedway) this Friday and once again have the opportunity to compete with Larry's Hard Lemonade. We have a great superspeedway record together – especially with the car that we're bringing to Daytona, because it's actually our Talladega (Superspeedway) race-winning Chassis, No. 007 which we've decided to pull out of retirement this weekend for the special occasion," said Brown. "I'm grateful to Vic and Larry's Hard Lemonade for continuing to support me through the ups and downs of my racing career. They've played a huge part in getting me to where I am today, and for that, I will forever be grateful."
If Brandon breaks through this weekend, expect there to be a lot of tears, as he'll be carrying his three biggest supporters, through his most trying year, on the car.
"Looking ahead to this Friday's race at Daytona, I would love nothing more than to make that dream of winning become a reality for the second time and take Larry's Hard Lemonade, Zero FG Energy and Fast Lane Media, Inc to Victory Lane with me as all three will be on the car and have helped to support me through the toughest financial period that I've ever experienced in racing," Brown said. "And since we're racing in 'The Sunshine State,' which I know is a market that Larry's Hard Lemonade has been looking to explore, my hope is that someone will hear our story and help me in trying to make their goals become a reality – much like they've done for me."
Despite recording mechanical DNFs in two of the last three races driving for Mike Harmon Racing and BJ McLeod Motorsports, Brown still sits 15th in the NASCAR Xfinity Series point standings. A win this weekend would elevate him into the Playoffs.
The 2022 NASCAR Xfinity Series Wawa 250 Powered by Coca-Cola at Daytona International Speedway is set for Friday, August 26th. Television coverage will begin at 7:30 PM ET on USA Network.