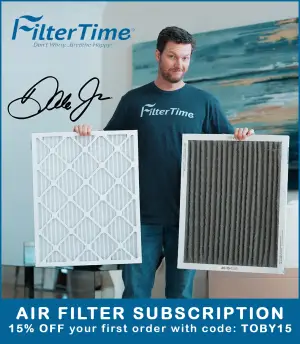 There are 37 cars on the preliminary entry list for Sunday's FireKeepers Casino 400 at Michigan International Speedway, the 23rd race on the 2022 NASCAR Cup Series schedule.
Notables include: #15 JJ Yeley (Rick Ware Racing), #16 Noah Gragson (Kaulig Racing), #33 Austin Hill (Richard Childress Racing), #77 Josh Bilicki (Spire Motorsports), #78 BJ McLeod (Live Fast Motorsports).
Note: Once NASCAR's official PDF is released it will be available for download.
Preliminary Entry List:
| Entry | # | Driver | Manu | Sponsor | Team |
| --- | --- | --- | --- | --- | --- |
| 1 | 1 | Ross Chastain | Chevrolet | Advent Health | Trackhouse Racing |
| 2 | 2 | Austin Cindric | Ford | Discount Tire | Team Penske |
| 3 | 3 | Austin Dillon | Chevrolet | Dow MobilityScience | Richard Childress Racing |
| 4 | 4 | Kevin Harvick | Ford | Busch Light Apple #BuschelofBusch | Stewart-Haas Racing |
| 5 | 5 | Kyle Larson | Chevrolet | HendrickCars.com | Hendrick Motorsports |
| 6 | 6 | Brad Keselowski | Ford | Castrol | RFK Racing |
| 7 | 7 | Corey LaJoie | Chevrolet | Schluter Systems | Spire Motorsports |
| 8 | 8 | Tyler Reddick | Chevrolet | Guaranteed Rate | Richard Childress Racing |
| 9 | 9 | Chase Elliott | Chevrolet | UniFirst | Hendrick Motorsports |
| 10 | 10 | Aric Almirola | Ford | Smithfield | Stewart-Haas Racing |
| 11 | 11 | Denny Hamlin | Toyota | FedEx Freight | Joe Gibbs Racing |
| 12 | 12 | Ryan Blaney | Ford | Menards / Cardell Cabinetry | Team Penske |
| 13 | 14 | Chase Briscoe | Ford | Rush Truck Centers / Cummins | Stewart-Haas Racing |
| 14 | 15 | JJ Yeley | Ford | TBA | Rick Ware Racing |
| 15 | 16 | Noah Gragson | Chevrolet | TBA | Kaulig Racing |
| 16 | 17 | Chris Buescher | Ford | LeBron James Family Foundation | RFK Racing |
| 17 | 18 | Kyle Busch | Toyota | Interstate Batteries | Joe Gibbs Racing |
| 18 | 19 | Martin Truex Jr. | Toyota | Auto-Owners Insurance | Joe Gibbs Racing |
| 19 | 20 | Christopher Bell | Toyota | Sirius XM | Joe Gibbs Racing |
| 20 | 21 | Harrison Burton | Ford | Ford 20 Year Sr. Master Techs | Wood Brothers Racing |
| 21 | 22 | Joey Logano | Ford | Shell-Pennzoil | Team Penske |
| 22 | 23 | Bubba Wallace | Toyota | McDonald's | 23XI Racing |
| 23 | 24 | William Byron | Chevrolet | Liberty University | Hendrick Motorsports |
| 24 | 31 | Justin Haley | Chevrolet | LeafFilter Gutter Protection | Kaulig Racing |
| 25 | 33 | Austin Hill | Chevrolet | Bennett Transportation | Richard Childress Racing |
| 26 | 34 | Michael McDowell | Ford | Martin Transportation Systems | Front Row Motorsports |
| 27 | 38 | Todd Gilliland | Ford | First Phase | Front Row Motorsports |
| 28 | 41 | Cole Custer | Ford | HaasTooling.com | Stewart-Haas Racing |
| 29 | 42 | Ty Dillon | Chevrolet | Ferris | Petty GMS Motorsports |
| 30 | 43 | Erik Jones | Chevrolet | FOCUSfactor | Petty GMS Motorsports |
| 31 | 45 | Kurt Busch | Toyota | Monster Energy | 23XI Racing |
| 32 | 47 | Ricky Stenhouse Jr. | Chevrolet | Kroger Health / SweetLeaf | JTG Daugherty Racing |
| 33 | 48 | Alex Bowman | Chevrolet | Ally | Hendrick Motorsports |
| 34 | 51 | Cody Ware | Ford | Nurtec ODT | Rick Ware Racing |
| 35 | 77 | Josh Bilicki | Chevrolet | Michigan State / Zeigler Auto | Spire Motorsports |
| 36 | 78 | BJ McLeod | Ford | Blaster | Live Fast Motorsports |
| 37 | 99 | Daniel Suarez | Chevrolet | Worldwide Express | Trackhouse Racing |