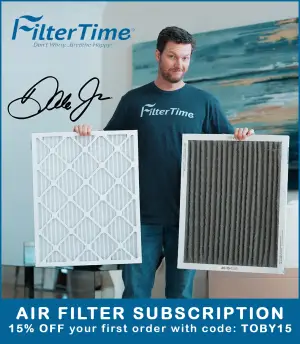 Christopher Bell is pretty good at running around the 1.058-mile New Hampshire Motor Speedway. The driver, who has three-career NASCAR Xfinity Series wins at The Magic Mile, scored his second-career NASCAR Cup Series win in Sunday's Ambetter 301 as he out-dueled Chase Elliott in the closing laps.
The 27-year old driver made the pass on Elliott for the lead, and win, with 42 laps remaining. As Elliott's tires faded down the stretch, Bell cruised to the win by nearly six seconds over the sport's Most Popular driver.
"Man, that one was much needed right there," Bell said of the win. "I tell you what, that was a hell of a race from my viewpoint. That was so much fun racing with the [Kurt Busch], [Joey Logano] and [Chase Elliott]. You know, we were all running different lines. That was a blast."
With the win, Bell becomes the 14th different driver to win in the NASCAR Cup Series this season, and while a win has always secured your place in NASCAR's Playoffs, since the format was adapted in 2014, with only two spots left for winners in the 2022 NASCAR Cup Series Playoffs and with six races left until the Playoffs begin, who knows what can happen the rest of the way.
While Chase Elliott, who has a series-high three wins in 2022, scored his fourth-consecutive top-two finish, the 2020 Series Champion was critical of himself for letting a potential fourth win slip through his grasp.
Elliott called his performance in the closing laps, "A poor run of execution on my end…"
Poor execution, or not, Elliott looks poised to head into the Playoffs with the regular season points lead, which comes with a bonus 15 Playoff Points. Elliott has a 67-point lead over Ross Chastain with six races left in the regular season.
Bubba Wallace, the driver of the No. 23 car for 23XI Racing had one of his best runs of the season as he scored Stage Points in Stages 1 and 2 and came home in third behind Bell and Elliott.
Martin Truex Jr. finished fourth and Kevin Harvick was just behind him in fifth.
Denny Hamlin, Brad Keselowski, Ross Chastain, Daniel Suarez and Kurt Busch rounded out the top-10 finishers in the race.
For Truex, he is now the last driver on the Playoff cutline following New Hampshire, despite sitting fourth in the NASCAR Cup Series regular season point standings, and despite winning both Stages 1 and 2 in Sunday's race at NHMS.
It was looking like a race win was imminent for Truex, who had led a race-high 173 laps, until a two-tire pit call late in the race didn't agree with his car and he lost important clean air. Still, Truex rebounded for a solid fourth-place finish, but the Playoffs cutline is closing fast.
The race featured nine total cautions, three of them for multi-car incidents.
On lap 5, Ty Dillon made contact with Justin Haley, which sent his No. 42 car shooting up the track. Alex Bowman had nowhere to go and clocked Dillon and BJ McLeod and Josh Bilicki piled into the crash as well.
McLeod, Bowman, Bilicki and Dillon finished in the final four spots in the running order.
On lap 89, Corey LaJoie got loose and collided with Harrison Burton and Michael McDowell couldn't miss the crash and piled in as well.
This marked the end of the day for LaJoie, who finished 31st.
The final multi-car incident of the day occurred on lap 152 when Chase Briscoe went for a spin and Cole Custer barely nudged into Briscoe.
Here are the complete results for Sunday's NASCAR Cup Series Ambetter 301 at New Hampshire Motor Speedway: