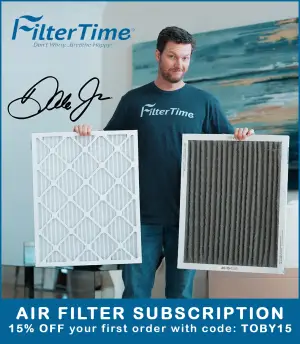 Ollen Bruton Smith was an absolute icon in the world of motorsports. Smith has passed away at the age of 95.
Speedway Motorsports released the news of Smith's passing on their website on Wednesday.
Smith was born on March 3, 1927 in Oakboro, North Carolina. Between the time of his birth and time of his death he founded Sonic Automotive, Speedway Motorsports and Speedway Children's Charities, which has distributed more than $61-million to charitable organizations since 1982.
Under Smith's watch Speedway Motorsports became a powerhouse company in NASCAR. As of 2022, Speedway Motorsports owns a total of 11 racetracks that are on or have been on the NASCAR Cup Series schedule in the past, including iconic venues such as Charlotte Motor Speedway and Bristol Motor Speedway.
The man, who watched his first race at the age of eight, and actually did some racing himself in his teenage years, went on to be an innovator as a race track owner.
The 1.5-mile paved Charlotte Motor Speedway opened in 1960, and it was introduced to NASCAR with the longest race distance in the sport — the World 600. Since 1960, the race at Charlotte Motor Speedway, which has become a crown jewel, has remained at the ultra-long 600-mile distance.
Jim France, NASCAR's Chairman and CEO released a statement on Smith's life and contributions to the sport.
"Race fans are, and always will be, the lifeblood of NASCAR. Few knew this truth better than Bruton Smith. Bruton built his race tracks employing a simple philosophy: give race fans memories they will cherish for a lifetime. In doing so, Bruton helped grow NASCAR's popularity as the preeminent spectator sport. His vision and legacy inspired many, and his fan-first mentality remains today through his son Marcus. On behalf of the France family and all of NASCAR, I offer my deepest condolences to the family and friends of Bruton Smith, a giant of our sport."
Over the years, Smith was also instrumental in helping NASCAR bridge the gap into non-traditional NASCAR-racing territories such as Texas and Las Vegas — Speedway Motorsports opened both facilities in 1996.
Eddie Gossage, who served as the track president for Texas Motor Speedway from it's opening until his retirement in 2021, says Smith was the greatest man he ever met.
"I've met American Presidents and scholars. Astronauts and artists. World famous musicians and athletes. But the greatest man I ever met was Bruton Smith," Gossage said in a statement on Twitter. "For whatever reason, he saw something in me, blessed me with the opportunity to join him in building one of the largest stadiums in the world. We had so much fun working together. He always treated me like an equal as he taught me lessons about business & life."
Smith was a 2007 inductee of the International Motorsports Hall of Fame and in 2016 Smith was enshrined in the NASCAR Hall of Fame.
Doug Rice, who serves as President of the Performance Racing Network (PRN), the radio network that was created by Smith and Speedway Media released a statement on Smith's passing, which read:
"On behalf of everyone at the Performance Racing Network, we are incredibly saddened to hear of the loss of our chairman and friend, Bruton Smith. Bruton was a true visionary and pioneer in the NASCAR universe and helped move the sport forward in a positive direction. He understood the vital role radio plays in bringing NASCAR to fans all around the world and we will be forever grateful for the opportunities he's afforded us to do so. Out PRN family and the NASCAR community will miss him greatly."
While Smith is known for his work in the world of Motorsports, he also served for the United States Army as a paratrooper in the Korean War in 1951.
This weekend, the NASCAR Cup, Xfinity and Camping World Truck Series are visiting Nashville Superspeedway, which was purchased by Speedway Motorsports in 2021.
The release from Speedway Motorsports states that information regarding funeral arrangements will be released at a later date.